Hey y'all!
I've been very busy over the past several days working on a new look for this place. It was well over-due, I think. I had not cared for the old look for quite a while, but wasn't sure of what changes to make or how exactly to make them. I'd not done a major update since before Blogger changed the way things work (so it had been a long, long time!) so I was not at all familiar with the (no longer) new process. I ran into some big bumps along the way, but I'm very happy with how it all turned out!
I really wanted to give the place a "cleaner", less cluttered look. Part of that included removing quite a bit of sidebar content. I also really wanted something brighter. I felt like the old look was too dark. I might still make some more minor tweaks here and there, but I feel pretty comfortable saying that I'm done making all the necessary changes.
I hope y'all like the new look as much as I do! I worked really hard on it. I'm not great with graphics and web design, but I tried very hard to come up with a new look that I'd like and that would be nice for you guys when you visit me here as well. I can't even tell you how many hours went into this... all I can say is that it was a labor of love that took me a lot of time and quite a bit of frustration. I know this stuff is super easy to a lot of people, but it's not easy for me to deal with graphics and coding and all that stuff.
I'll be back tomorrow with a new post for you with another of the products from my February box from
Wantable
. For now, it's snowing in my little corner of the world and I'm going to make some of my not-so-famous
white chocolate caramel cappuccino
to keep warm with, once I tackle a couple small household chores. Whatever the weather where you are, I hope you're able to stay nice and comfy!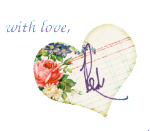 Follow my blog with Bloglovin