Hey everyone!
Sorry for the delay in getting things going in the new year. Life and all that. I hope you understand. =)
I know it's a little early on for holiday themed manicures for Valentine's Day - however, I'm a fan of planning and preparedness. Not so much a fan of Valentine's Day, but I do like hearts because they're cute. And when it comes to DIY nail art, hearts are a super simple option!
I thought I'd try to share a couple holiday themed manis this year to give you some inspiration. The first one I have for you today is a simple look done with 3 colors. I used gel polish, but you can absolutely do this with regular polish as well.
For this mani I used SensatioNail gel polish in Disco Fever as the base color and Tease Me Pink & Pink Chiffon for the hearts.
If you don't know how to make hearts, I have a tutorial posted. Which, as a bonus, is also a super cute mani that would be perfect for Valentine's Day! Click the picture below to see the tutorial on how to make hearts:
(Colors used for this mani: SensatioNail gel polish in Pink Chiffon and After Five)
I am hoping to get a couple more Valentine's Day themed manis done & posted for you over the next couple of weeks, so stay tuned if you're on the hunt for inspiration for your nails for the holiday!
PS - Fellow bookworms, I'm doing a 50 Book Challenge! Care to join me? Details on the Google+ page, just
click here
to go to the post with the details!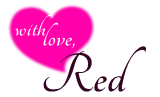 Follow my blog with Bloglovin