Shown indoors with flash
I'm not much of a fan of bold lip colors. They just aren't my style. Every so often I'll pick up a red, though. The experts claim there is a perfect red for everybody. I don't think I've found mine yet. Or maybe I have but I just don't realize it because I so infrequently wear a bold lip color that when I do I think it always looks strange.
This lipstick came in one of my
Wantable
boxes. It was only when this arrived that I realized I'd left the "red" option in my color profile open as a "like", rather than changing it to "dislike" so I would not get any red lipsticks. oops. Like I said, I occasionally buy a red anyway so it's not a big deal to have it added to my stash. But Pride is most certainly a bold, bold red...
Shown indoors in natural light, no flash


The packaging is lovely. It's got a mirror-like shine, simple and sleek and basic. I like basic. Wild packaging can be fun, be basic is not a bad thing either.

The formula is smooth and creamy and it applies beautifully. It has a velvety, almost matte finish with only the slightest hint of shine. It is not at all drying, and is incredibly lightweight. You know how you can feel a lot of lipsticks on your lips? Not so with this one. I could put this on and very easily forget I was even wearing lipstick at all, it's so lightweight!

It is super pigmented - you won't need to layer it on to build up the color. One thin layer is fully opaque. Even just lightly dabbing it on you'll get quite a bit of color from it. Because this is such a bold color, you will want to make sure you use a good lip liner to help hold the color in place where it belongs on your lips, and be careful with your application so it isn't messy around the edges of your lips. I find I can do a suitable job applying straight from the tube but you might consider using a lip brush for precise application.

I have very lightly dabbed it on (again, you still get quite a bit of color when doing this) and when I've done that it's worn almost like a stain and lasts several hours. I haven't tested out how well it wears with a full/normal application, though. I am guessing with the stain-like wear of a light application that the staying power is pretty good, though.
Shown indoors in natural light, no flash
As for the color...
I actually think it works
really
well with my skintone. It is probably my favorite red I've ever tried. It probably won't see much use, since I do tend to shy away from such bold lip colors. But I really do like it a lot. When I first opened it up I thought I'd be giving it away for sure. After I tried it out and wore it (albeit briefly) a couple times, I am happy to keep it for myself.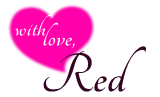 Follow my blog with Bloglovin