Hey y'all! Long time no blog, I know. Sorry about that. I am still on my extremely extended "vacation", and it's looking like that is not going to change any time soon. I feel bad about basically abandoning this place, though. I miss you guys!
Since I am going to be in my current location for a long, long time (much longer than anticipated) I've gathered up some new goodies and am going to get back to posting here again. It won't be able to be regular posts like before, but I'll post as often as possible.
I should have a proper post up for you guys in the next couple of days so stay tuned, and thanks so much for sticking with me.
xoxo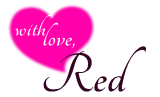 Follow my blog with Bloglovin