Wild Orchid
Natural, cloudy light, no flash
Indoors with flash


I think this is my favorite of the bunch. Grey is one of my favorite colors. I have a couple grey cremes already so I had to get this one for the fact that it has shimmer. This isn't a straight grey, it has a definite blue undertone, and the shimmer is iridescent and subtle. This applied beautifully; two coats to perfection. ♥
Hot Couture
Natural cloudy light + flash
Indoors with flash
This is a very pretty glitter polish. It is a sheer pink jelly base with lots of iridescent glitter. The base is slightly orange toned. It's sort of like a glittery version of
Rock Candy
, and when you compare the two in bottle you can better see the orangey hue that Hot Couture has next to the hot pink bottle color of Rock Candy. It's pictured at 3 coats, which I think looks ideal for this on it's own. But of course, just one coat is fabulous to layer over other colors. The glitter applies evenly.
Sultry Diva
Natural cloudy light + flash


Indoors + flash

Two coats of golden glittery goodness... ah, love! Gold glitter is one of my favorites. I love how opaque this one is with two coats. One coat would be good for layering over other colors.
Object Of Envy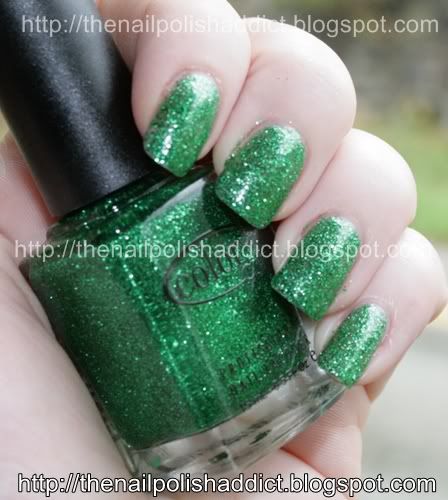 Natural cloudy light + flash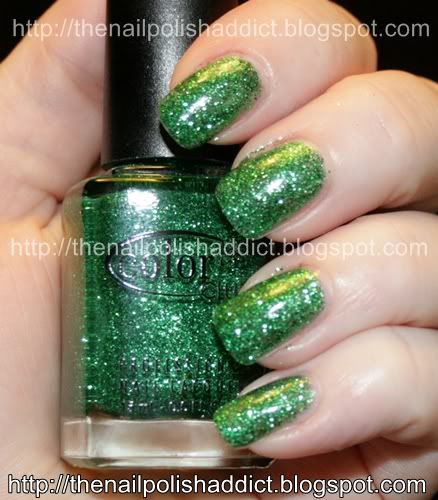 Indoors + flash
This is a lovely emerald green glitter polish. One coat is good for layering. It's pictured at three coats. The glitter didn't seem quite as dense as the glitter in Sultry Diva but it's still excellent coverage and definitely among the best glitter polishes I have ever had.
Art Of Seduction
Natural cloudy light + flash
Indoors + flash
Gorgeous red glitter polish! To one who loves sparkly, glittery things and nail polish there's only one thing better than a great red nail polish and that would be a great red glitter polish! This is also shown at three coats as the glitter seemed a little less dense than that in Sultry Diva. It's got really great depth to it. Love it!
Red Velvet
Natural cloudy light + flash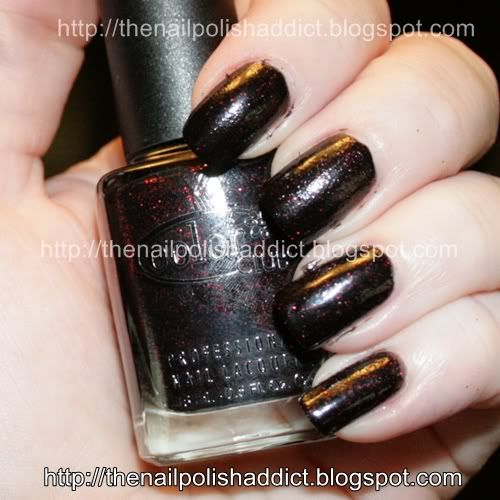 Indoors + flash
And last but not least is Red Velvet. This one is a stunner, but it was a bit of a PITA to photograph for me. (The fact that I was in a rush to photograph it didn't help, either.) This is a black creme base loaded with red glitter. It's perfect at two coats. Very vampy! The glitter is far more noticeable in person than it looks in the pictures. It seems like an ideal color to be popular right now with the whole Twilight/vampire trend. I'm not into Twilight by any means however it is just what popped into my head when I saw this color.
I'm just thrilled with all these polishes. The more I try from Color Club the more I love them!