These days it seems like everyone uses liquid "shower gels" or "body washes" (which are both the exact same thing and just fancy ways of saying "liquid soap"!) but, while I have used some that I've loved, I prefer bar soap. Bar soaps are extra nice when you are trying to save money, too. It's easy to over-use the liquid soaps, and with average prices around $7 a bottle (generally for about 24 oz. of product but sometimes even less than that), using liquid soaps can really be a drain to the wallet. You can get some great bar soaps for about the same price and the product will last much longer (generally speaking, some soaps "melt" more than others) thus saving you money.
My favorite soaps come from Lydia Marie's Bath & Body Boutique. If you live in the Pittsburgh area you can find Lydia Marie's products at Gingerbread Junction in Robinson Township. If you live elsewhere in the US you can order online at
www.lydiamarie.com
Lydia Marie's is a small, one woman show and everything is hand made. The owner of Lydia Marie's takes great care in creating high quality products that are truly unique. She has fun shaped soaps for kids, tons of fragrances which change with the seasons, and even fragrances the men in your life will want to use! There are fun holiday themed soaps available through the year, as well as numerous other bath & body products. You can also get custom wedding or baby shower favors made - just check out the site for all the details. Everything comes beautifully wrapped and carefully packaged.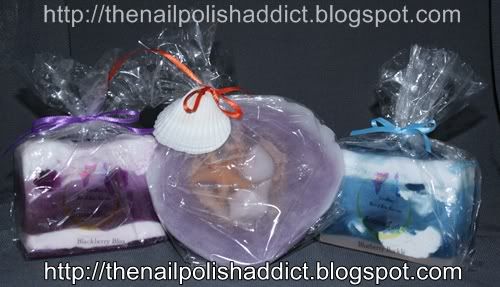 These are just a couple of the many soaps I have from Lydia Marie's Bath & Body Boutique
I've used many soaps from Lydia Marie's over the past couple of years, and I have loved every one of them! Peppermint Teatree is one of my favorites; it smells fabulous and leaves a tingly clean feeling. It is excellent for after workouts, it really leaves you feeling clean and refreshed. I also use this one as a shampoo bar a lot. (All of Lydia Marie's cold process soaps are awesome as shampoo bars!) Nile Queen is another favorite fragrance of mine, as is Fresh Laundry.
Another soap that I absolutely love (though it is currently not listed for sale on the web site) is the Salt Soap. Yes, that's right, it is a soap that has salt in it! Salt is very softening for the skin (ever heard of a little thing called Bath Salts?) so this soap is fantastic for helping to soften your skin. The bar is nice and solid too, and doesn't melt in the shower. It has the richest, creamiest lather of any soap I have ever used, too. Really love it!
Overall, I really love and highly recommend
Lydia Marie's Bath & Body Boutique
soaps (and their other products as well!) and really, the quality and value can't be beat. The prices are extraordinary, there are fun, totally unique products available and you can just tell everything is made with great care. 5 of 5 stars from me, and again... highly recommended!
*Note: All products mentioned in this post were purchased by me and all thoughts and opinions are my own. I have not been paid or otherwise compensated for this review.