I'm not sure a tutorial is really necessary for this design, it is so very, very simple. But here's a tutorial regardless. ;-)
Start off by painting your base color on your nails and letting it dry completely. For this tutorial I am using Claire's Mood Polish in Excited/Bored (3 coats).
Then use a nail art polish in a color of your choice (I'm using LA Colors Art Deco in Black) and paint a water drop/flower petal shape horizontally toward the tip of your nail.
Repeat the above to make the other half of the bow.
Next, add a thin line on either side of the bow. You can make this line straight across or curved, whatever makes you happy. =)
Then, use a dotting tool to make some dots above the bow. If you don't have a dotting tool you can use a toothpick or just carefully drop the polish straight from the brush.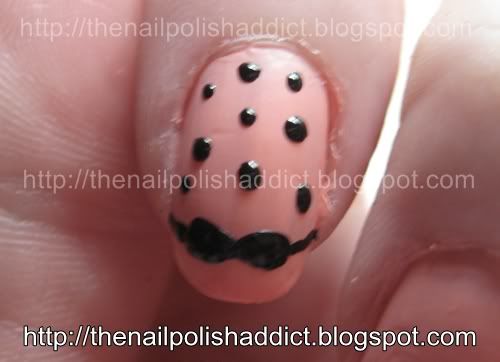 Finish off the design by placing a small rhinestone in the middle of the bow. This is totally optional. I personally feel the rhinestone really pulls it together, but you may feel otherwise. ;-)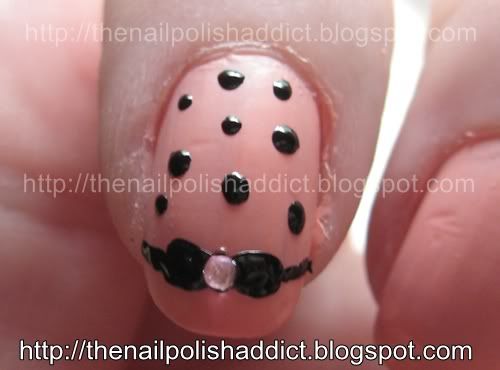 Voila! (Sorry for some of my bows being lop sided and whatnot. I attempted to do this tutorial while at the same time helping my niece with a game on the computer and that led to more than one "oops" with the nails that I didn't feel like fixing. lol)
This design is fun and simple and can be done in numerous ways - try putting the bows at an angle or at the base of your nail instead of at the tip, or place them vertically on the nail instead of horizontally. It's a cute way to punch up a classic French manicure a little too. Just paint your entire nail a soft color that you would normally use for a classic French and then use white to paint the bows instead of painting the entire tip white. Or use a softer color as your base color and then paint the tips a darker shade of that same color (for example, soft pink all over then dark pink on the tips - or try the darker shade all over and the lighter shade at the tips!) and use white to make the bows as above, placing them over the line where the two colors meet. For something more special occasion or work appropriate, choose soft colors and skip the polka dots.