The final thing that I wanted to try from mark. was their Go With The Grain Exfoliating Beads.
This is a dry powder that you add to your facial cleanser as desired to exfoliate your skin. This is great because you can use more or less product as needed, so those times you just want to lightly exfoliate you can use less, and if you need a little more heavy duty exfoliating you can just use more!
The jar does not contain quite as much product as you might initially think by looking at it, and that is because the jars are designed to fit on top of the bottles of mark. cleansers.
I popped this on top of a bottle of Avon makeup remover and it fit, however it didn't stay there long. I was really just curious if it would fit to be honest, and it did. I have the space to have this jar elsewhere and I prefer to keep it own it's own, but it's nice that it will fit on top of the mark. cleansers and likely the Avon cleansers as well. (There are probably even some other brands that it will fit on too, just try and see.) If you have limited shelf space it would be an ideal storage solution to be able to just pop this on top of your cleanser. Smart thinking!
Even though this means that there is not as much product in there as you might think at first glance, make no mistake there is still a LOT of product in there! Even if you're using more for a heavier exfoliation, you don't need to use a lot at a time. This jar will last you quite a while, so don't be turned off by the fact that it's not exactly a "full" jar because of the bottom being designed to fit over the cleansers!
The lid of the jar has a little dispenser on it, which is a brilliant idea however I don't think it was well executed. I think that the sides of the dispenser need to be longer. The product doesn't pour cleanly out of the dispenser - it spills out around the sides of it before any of it actually makes it down the little tab in the first place. It's just a shot in the dark that the sides being a bit longer would help with that issue. Maybe after more use and the jar isn't as full it won't be an issue anymore. But as of now, I prefer to just take the lid off and scoop the product out with a small measuring spoon. It's much easier to get the amount I want that way as trying to pour it out leads to getting more than I really wanted.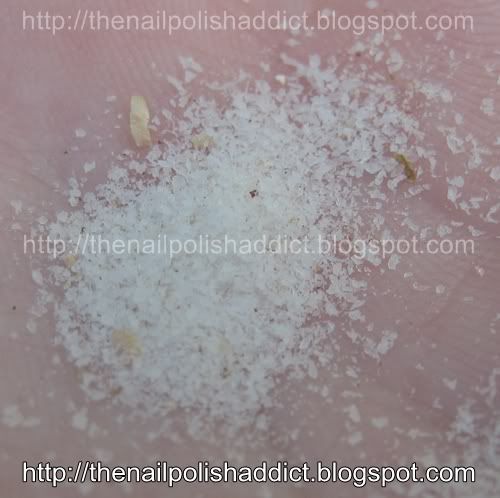 The product itself is really nice. I'm not sure you could really call it "beads", it's more of a powder. Much of it is pretty uniform in size but there are some bigger pieces in there too. A little goes a long way, and it does a good job of exfoliating without being harsh on my sensitive skin. I'd imagine for some folks it would be gentle enough for more frequent exfoliating but I don't exfoliate more than once a week. Even though this isn't harsh I know my skin, and I know if I were to use this more than once a week it would be too much. But that is true of any exfoliating product for me!
Overall I really like this and would recommend it to those looking for a good, gentle exfoliator. I love being able to determine how much of this product I use, and that it can be used with any cleanser. The dispenser could be better, but the product is good enough the dispenser issue isn't too big of a deal. At $9 a jar it's a very decent price, too!