As some of you may already know, Lourdes of
Vice Beauty Blog
has recently become a mark. rep. I've known Lourdes for more years than I can now remember off the bat, and since I do like mark. products and have a perpetual wish list of their items going, I knew I wanted to place an order asap from her
online shop
! Granted I couldn't get much, but I did cross a couple things off my wish list.
Note that all the pictures included in this post were taken outdoors in the shade.
The first thing I knew I wanted to get, that I've wanted for ages, was one of the Snap To It palettes. These are great customizable palettes that come in 3 sizes. I got the Mezzo palette, which is the mid-sized one. To go with it I got three of the I-Mark Custom Pick eye shadows, which are specifically made for the Snap To It palettes. (There are blushes also available.) The palettes have a magnetic strip in them, and the pans of the shadows and blushes are magnetic so you just pop them into the palettes and arrange them however you like. The Mezzo palette can hold 4 shadows... I couldn't figure out which color I wanted to finish off the palette, so I just got the three I knew I *had* to have, and I'll get a fourth shade at some point in the future to complete the palette.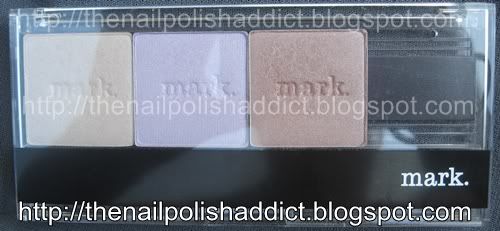 The palette is clear plastic so you can see the colors inside even when it's closed. I love that about it!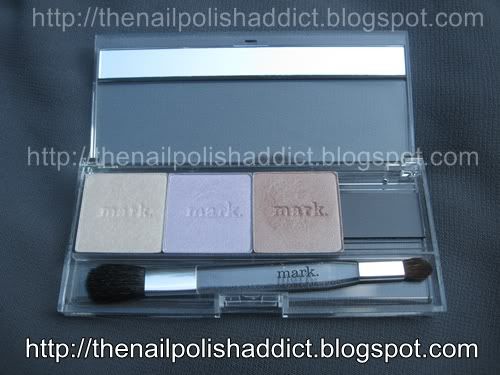 It also includes a dual-ended applicator brush which is just ok. I think the larger one is supposed to be for blush, if you've got a blush in the palette. But it's far too small for proper blush application. I do like it to do a sweep of eye shadow from the lash line to the brow, though. Good for when I'm in a rush and just do one soft, natural looking color eye shadow. (Which for me happens a lot.) The bristles are nice and soft, and so far it doesn't seem to shed. The smaller end of the brush though, I don't like at all. The bristles are a bit long and not very dense, and it's just too small of a brush even for my smallish eyelids. There is also a mirror, which some have complained is not big enough however I like it. If it were bigger you wouldn't be able to see the colors when the case is closed, and it is just wide enough that you can see your eyes or lips to do a quick check to make sure everything looks good.
Here is a close-up of the colors I got, which from left to right are Biscotti, Lotus, and Fairy Dust. Biscotti is a lovely soft golden flesh tone color with shimmer, Lotus is described as "lavendar" but to me it is more of a lilac (pinky purple) shade with very soft shimmer, and Fairy Dust is a pretty peachy bronze shade with shimmer. All the colors are soft and silky and blend well. Lotus is not as pigmented as I would like and it's more pink than I expected, but it is still a very lovely color and I do like it a lot. Overall I have no complaints about any of them, they're very nice eye shadows and excellent quality for the price.
Swatches without flash; outdoors in the shade; shown over Too Faced Shadow Insurance
Swatches with flash; outdoors in the shade; shown over Too Faced Shadow Insurance
I'd definitely recommend these eye shadows and the Snap To It palettes. It's fun to get to customize a palette with just the colors you want and then getting to arrange them in the palette however you want, too. The magnets make it super easy to do; and with three different sized palettes and almost 30 eye shadows to choose from, there's something that will suit everyone whether they're makeup minimalists or makeup fanatics.