Here is today's NOTD: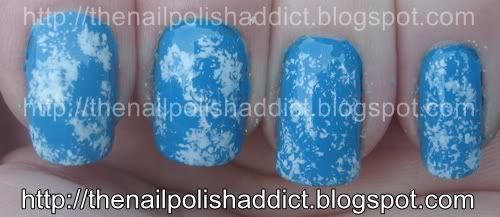 Sally Hansen Hard As Nails XtremeWear in "Blue Me Away" (2 coats) with some LA Colors Art Deco "White" sponged on.
My goal was a "sky" effect which I think turned out fairly well. Sure it could have been better but it's not too shabby either, I think. Sorry for the messy application and edges though - I'm in quite a rush and my time is very limited at the moment. We are heading to the zoo today, and as such I am trying to make sure we have everything we need so we don't forget anything, and I'm trying to get our supper in the crock pot so we have food ready when we get home too. But I know it's been a while since I've posted and I wanted to make sure I updated quickly with a NOTD post.
I attempted a little shaping on my nails too. I've always preferred the square tips but I let my nails just do their natural thing (which is kinda "squoval" shaped I guess, except for a couple nails that are more rounded) simply because I do not have the patience to keep up with shaping and I tend to be a perfectionist about each nail being the same length and getting the edges shaped the same etc. I decided to just shut up the perfectionist and try shaping a bit and not obsess over it all being totally perfect. I think I did OK, considering this was the first time I've attempted to shape my nails in any way. I don't know how long I'll keep this up though, but I do like the look a lot more than what my nails do when left to their own natural shapes. I'd like to get better at shaping, and have them just a bit more squared than I managed to get this time but honestly I was just trying to square them off a bit without taking much off in the way of length since my nails are short right now as it is! Any of you have any tips for a newbie to shaping?