I know it's taken me forever to get around to swatching these. Life has been hectic, it happens sometimes. =)
(All photos are indoors with flash.)
First up is Awesome/Silly, which is a creme color that when warm is a baby/pastel pink and when cold turns a deeper pink. I didn't manage to get pictures of this one when it's all one color or the other. It kept changing too fast, lol.
Next is Excited/Bored, which is another creme color that changes from a pastel orange when warm to a dark coral-orange when cold.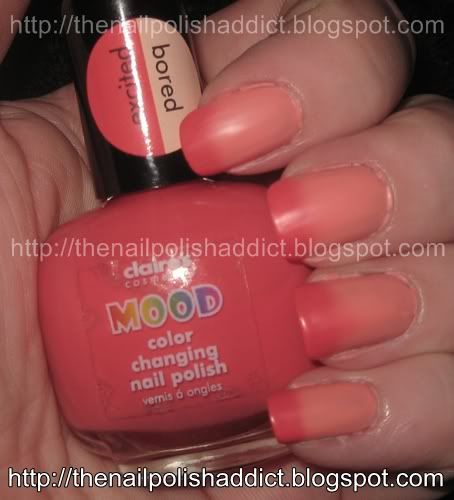 And last but not least is Calm/Wild, which is a lovely shimmery color that changes from a lilacy pink/magenta when warm to a sort of plummy purple when cold.
All the colors apply ok, but start off sheer and streaky. Each color is pictured at 3 coats. The two creme colors have a satiny finish to them and working with them is much like working with matte polishes - you have to work quickly to avoid problems with dragging and the polishes dry quickly. The shimmery color also dried quickly and with a satiny finish however it was a little easier to work with than the other two.
These polishes really are best suited to those with longer nails, I think. And by "longer" I mean anything long enough that the tips extend above the tips of your fingers at least just a little. In most "normal" conditions this will usually render a faded/gradient type look on your nails, with the darker color at the tips and the lighter color on the rest of your nail. This is simply because these change with temperature, and your nail bed is warmer than the tips which of course when longer get some air flow around them keeping them cooler.
For $5 a piece these polishes are not bad. The lasting power was a little less than average for me, and I feel like the application could be better. But for the cool effect - if you're that into it - it's worth it. I painted my niece's toe nails with the pink color and it was kinda funny, I could tell when her toes got cold when we were grocery shopping (when we were in the frozen/refrigerated foods section) because the polish turned darker. Once we got away from the coolers and her toes warmed up, the polish went back to soft pink and I knew her feet were not cold anymore. :p
4.5 of 5 stars from me. Would be a perfect 5 if application was better. I'd recommend them for anyone who wants something fun while still simple for their nails with absolutely minimal effort to achieve it. Those with little girls in their lives may want to pick up a bottle or two and enjoy the bonding time and the thrill this polish is sure to deliver to a little one. (All the countless dolls out there with color change hair and clothes... little girls love things that change colors!)