I think I actually had a tutorial for this up on my old blog a couple years ago, lol.
Start off with base coat (as always) and some nice, bright berry red polish. The shade of red can be a bright red or a deep red, as long as it's a nice "ripe strawberry" type of red. I'm using Revlon's "Cherry Crush" for this tutorial, which is my go-to red because it's just plain lovely and it's a one coat wonder. Seal the red polish with top coat. This is important to prevent the red from bleeding into other colors of the design, so don't skip it.
Next take a nice dark, leafy green and at the base of your nail make the "leaves" of the strawberry. I used Sally Hansen Xtreme Wear in "Emerald City". Basically you want to follow the contour of your nail bed, to make a wide "u" shape, and then add a couple little lines (straight, curved, at an angle, whatever floats your boat here) coming down from the "u".
Then take a *chocolaty brown polish (I'm using China Glaze "Unplugged" - I'd really prefer a truer chocolate color with a cream finish but this is the best I've got right now, so...) and make a diagonal swipe across the lower portion of the nail to the tip.
Finally, take a white nail art polish (I've used LA Colors Art Deco in White) and make tiny dots for the "seeds". Only place these on the red polish. Let it dry for several minutes and then apply some top coat.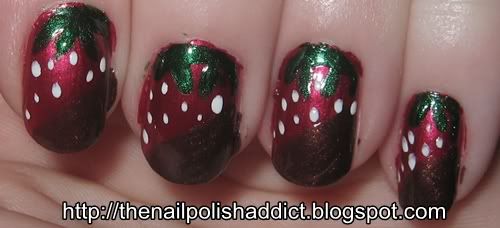 * - You don't have to just use a chocolaty brown; use white polish to create a "white chocolate dipped strawberry" look. Or use the brown to make a diagonal swipe one way, then white for a diagonal swipe in the opposite direction. Another option is to make a "v" of white, then a "v" with brown over top of that and leaving a bit of the white showing to create a "tuxedo chocolate dipped strawberry" look. There are a lot of options with this one!
A great thing about this design is that none of the individual elements of it have to be perfect. The leaves of a strawberry are not all the same size or shape, nor are they ever perfectly placed/spaced. When dipping berries in chocolate the chocolate does not always leave a perfectly straight line across the berries. And of course, the seeds are very random on the berries too. So for this nail design you don't have to fuss with trying to make it flawless - if you make a little mistake don't worry and just consider the design a reflection of nature's own imperfect beauty in a strawberry!