As promised, here are swatches of the two new polishes.
Both photos were taken outdoors in natural light (cloudy), no flash.
Petites "Solar Yellow"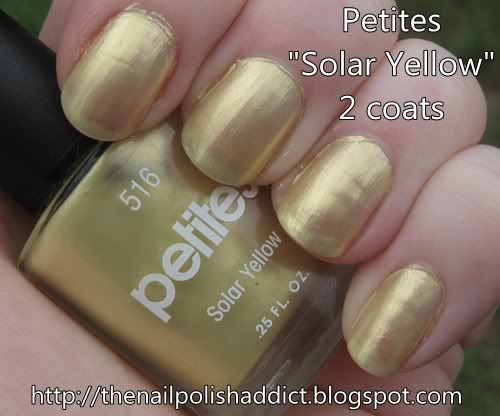 This is a pretty buttery yellow with a soft metallic finish. (Pictured with Seche Vite top coat) It applied well, though slightly streaky. Not so much that it was a problem, really. It's somewhat sheer at two coats. Similar to Avon's "
Lemon Ice
" but more opaque.
Wet N Wild Craze "Nocturnal"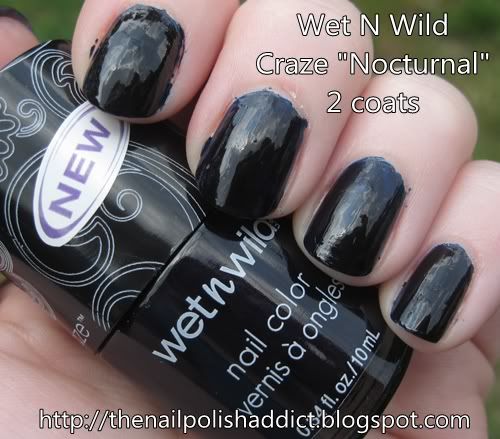 This is a lovely cream finish dark, navy blue. I'm a fan of "almost black" type shades, so I'm really digging this polish. It's a little less black IRL than pictured. It applied well but was slightly streaky and I had some minor pulling when I put the second coat on, but nothing that was too major. You can't tell much but two coats is a little - very little - streaky; it's not enough that it bothers me, but uber perfectionists might want a third coat to really even things out. A third coat really isn't necessary though, IMHO. Has a gorgeous glossy finish (pictured without top coat) that I'm fond of.
I know mattes are very in right now but they're just not my style. However, I am still sort of tempted to get a matte top coat just to experiment with a bit. I think Nocturnal might look kinda awesome with a matte top coat. If anyone tries it, do let me know how it turns out (with pics please and thank you!).
PS - For anyone who is interested in taking a look at my niece's piggy bank, which these polishes were used to finish off the design, you can check it out here:
clicky