Yep, I've finally gotten around to trying Sinful Colors. I only have these two at the moment. Not sure whether or not there will be more in the future.
You Just Wait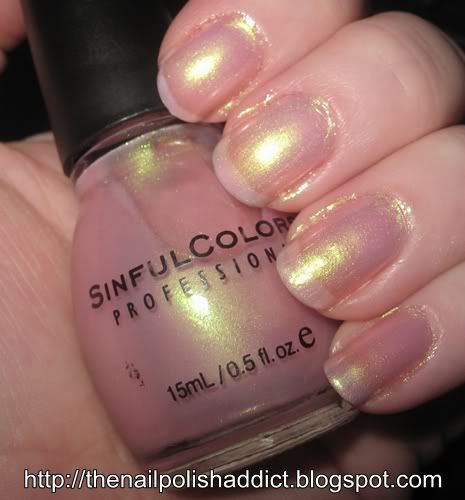 This is a pretty pale pink with a lime green flash. It's similar to Nicole by OPI's "Enchantress" but with a green flash rather than blue. It applied very well, I didn't have any problems at all with this one. It is sheer though. It's still lovely but I think I'd like this color more if it were more opaque. It is pictured at 3 coats, indoors with flash. (With top coat.)
Nail Junkie
This color grabbed my attention first of all the Sinful Colors on display. And the name? How appropriate is that? Too cute. It's pretty enough I suppose but I'm not in love by any means. In the bottle the color is a delicious deep teal loaded with iridescent glitter. The base color is very jelly like except that it has a satin finish rather than glossy. The glitter distributes pretty evenly, and the glitter itself lends a "faux shiny" finish to the polish when you look at it from a distance. I'd really prefer this color if it were more opaque and if the base color itself had a shiny finish. It is pictured above at 3 coats, indoors with flash. (No top coat.)
I did have some problems with Nail Junkie. There was major dragging, and the texture of the polish seemed kind of "sticky", if that makes sense. Ironically enough it almost seemed to have a thin jelly like consistency, and not as in a jelly nail polish but as in the jelly you buy at the supermarket. Not cool. Are all Sinful Colors glitters like that? I'm leaning toward "no", but... you know, since I've never tried them before... ?
They're niece enough colors, and the price isn't bad. But honestly, none of the colors on the display really struck me as unique or something that I had to have. I could have gone without both of these; they were just the ones I liked best of what was there and I had been wanting to try the brand for a long time. I definitely do not love them. I'm glad to have finally tried the brand, but unless I see a color that's totally gorgeous, I'm probably not going to buy any more from them.