For those of you who don't know, Nicole is holding a really great contest on her blog with a couple terrific prizes from
Sedona Lace
. Just click
HERE
to check out her blog and for all the details you need to know to enter the contest.
(Be sure to check out my other entries
here
and
here
!)
This is my (first) entry. (Yes there is a possibility I will do more. It was fun creating this look.)
First, my inspiration was this picture:
What I love about this photo is how it's dark yet colorful at once. The contrast of the bright colors in the sky against the dark landscape below is very striking. The patch of lighter, smoky colored clouds in the top left of the picture is also gorgeous in how it's complimenting the lighter portions of the rocks in the landscape, it seems to tie everything in the scene together. So, I attempted to replicate all this with makeup. I'm not sure how well I did at putting all this together on the small canvas of my eyes lol but I had fun creating this look. =)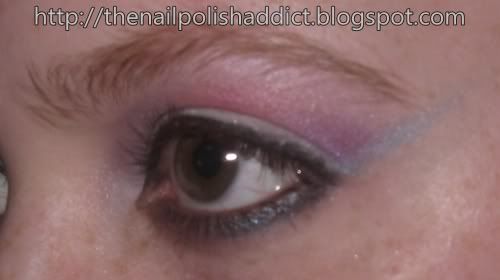 I used a blue shadow to create the line at the outer corner to represent the sharp line of the horizon in the picture, where the sky meets the rocks. I utilized deep, dark colors along the lower lash line to reflect the landscape of the picture while the rest of the colors used in the look are reminiscent of the colors of the sky. I also applied a second coat of mascara with which I dipped the wand into a bright pink loose mineral eye shadow to add a little pop of pink to the lashes, but it did not show up well in the photos - it's more noticeable in person.