For those who don't know, I'm a big time hockey fan. While I do not agree with a lot of decisions the NHL has made over the past couple of years and I've officially "broken up" with the NHL as a whole, I still watch my hometown team play and I also still watch the Stanley Cup playoffs.
Last night was game 6 of the finals with Chicago up by one in the series. For those who don't know hockey the playoffs are a "best of 7" thing so whoever wins 4 first advances to the next round OR if it's the finals wins the ultimate prize: Lord Stanley. The game went into OT, and shortly after the first overtime period started....
Chicago won!
To honor the 2010 Stanley Cup champs, the Chicago Blackhawks, I present to you: my NOTD: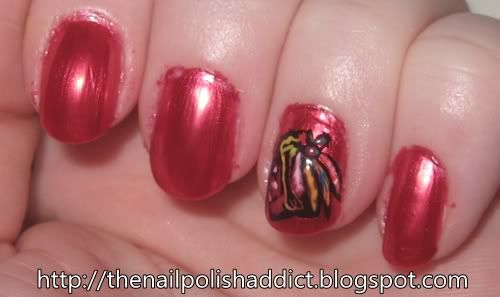 This was the hardest free-hand design I've ever done lol. I know it's not perfect nor is it as detailed as the actual logo for the Blackhawks. But I'm pleased with it. =) I totally forgot to seal the red polish before doing the design though so a couple of the colors wound up just soaking up the red - the yellow, white and the tan/flesh tone (which I had to franken and I'm sad it had soaked up all the red by the time I took pictures, it was danged nice initially!) all took on red. Oh well. Hey it was near midnight when I did this and I was ready for bed at 9 last night. So I wasn't exactly thinking clearly about how the process should have gone to prevent such things.
Anyway. Again I know it isn't perfect but I'm really very happy with how it turned out especially given the small "canvas" I had to work with to create such a detailed design. =)
And once again: congratulations, Chicago Blackhawks on being the 2010 Stanley Cup Champs!
(Yeah I was rooting for Philly. I had my reasons. But in the end Chicago really does deserve it and I'm happy for them.)