I got this during TF's "vintage sale" last year, and I've been quite happy with it. I tend to use the "Nice" palette of colors more, because I favor soft, more natural looks with my makeup on most days.
This palette is divided into two sides - "Naughty" and "Nice". As you might be able to guess, the "Naughty" colors are darker, for smoky, sultry looks while the "Nice" colors are soft and neutral. Each side contains three eye shadows and three lip colors, all of which are well coordinated and lovely.
All of the following photos were taken outdoors in sunlight.
"Nice"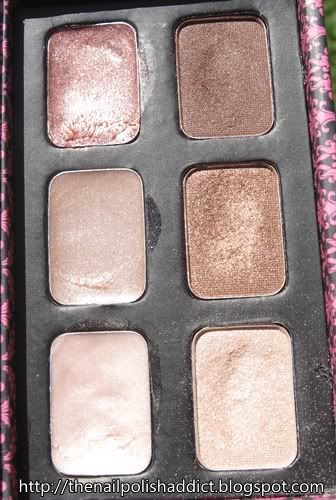 Lip colors are on the left, eye shadows on the right.
Eye shadows on the left, lip colors on the right
Naughty: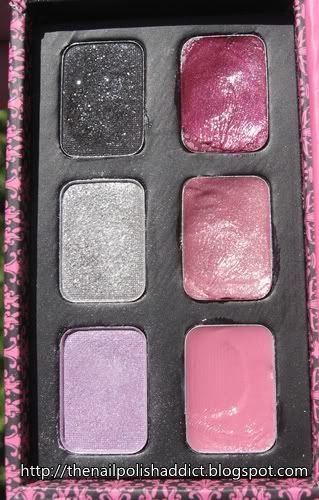 Eye shadows on left, lip colors on right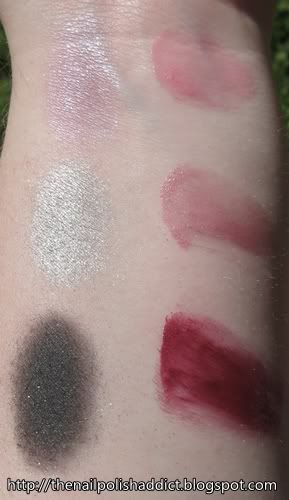 Eye shadows on left, lip colors on right in opposite top-to-bottom as in the palette
All of the eye shadows are silky smooth and blend very well. They are all decently pigmented, though I do wish the purple from the "Naughty" side were a little more pigmented than it is. The lip colors are also all smooth and well pigmented. They're not sticky but they are thick and have a slight tackiness so they stay on longer than a gloss would; they're about average to a typical lipstick (ie a cream lipstick that has a slight semi-gloss kind of finish, NOT a glossy finish or long-wearing lipstick).
This palette also contains a mirror on each side when you open it, and there is a little side drawer that holds a dual-ended lip brush and sponge-tip applicator. I never use the sponge-tip applicators that come with palettes, so that has not been used. I do use the lip brush though, and I clean it after each use so as to not get the drawer it is stored in messy and also to keep the colors from muddling together as I use the different colors.
Overall I really like this palette; maybe because I like having some options but at the same time too many options can be overwhelming, but this kit is just about right.
5 of 5 stars.
Note: this item was LE, as such I'm not sure where/if you'd be able to find it now.