At the end of 2009, I won this kit from the fabulous folks at Too Faced through a contest they had on Twitter. I got my lovely prize shortly after the new year. This is the original review I posted back in January, on my old blog. All my thoughts still hold true. I am going to add newer pictures at the end; forgive the old url on the pictures within the review, I wasn't able to find the folder the photos were in to update them with the new url. (I have thousands of folders with photos - it's a pain to go through them all!) Photos within the review were taken indoors, most with flash but a couple without - you'll know which ones were without, trust me!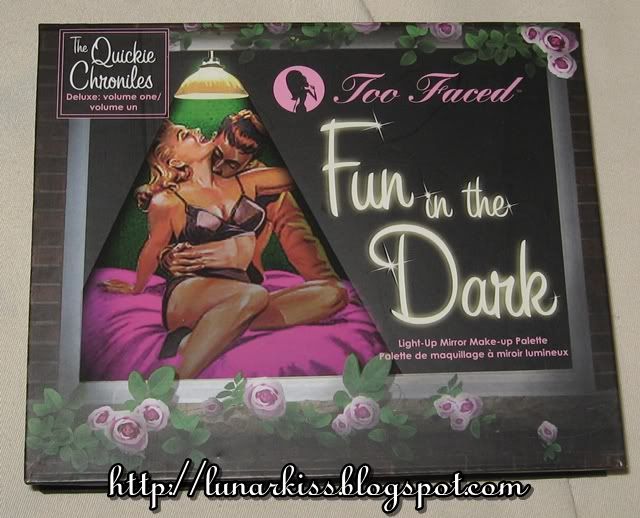 The packaging: As with all things Too Faced the packaging is amazing. It's sturdy and adorable and in this case just a bit avante-garde.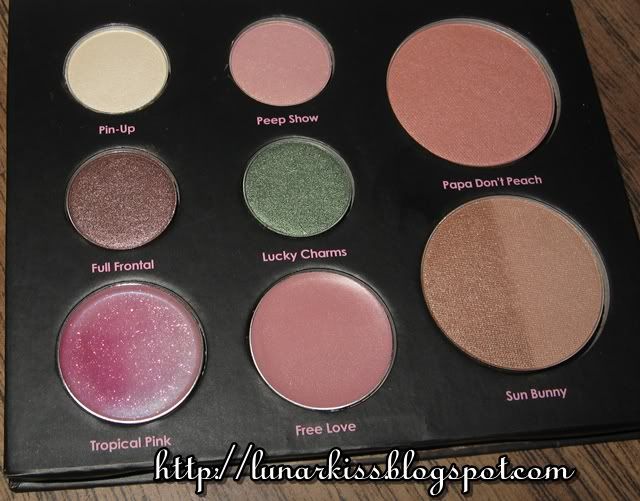 The colors:
All absolutely lovely, and they all work very well for my skin tone which if you didn't already know this is pretty much "sheet of paper white" pale. :p Even the Sun Bunny Bronzer works for me, which is the only thing I had any concerns over as with my very fair complexion most bronzers that are "suitable for all or most skin tones" are typically several shades too dark for me. But not Sun Bunny!

Sun Bunny Bronzer: As I already said, it works well even for my uber pale skin tone. It adds a soft, warm glow wherever it's applied. Obviously the key application spots for the face are the so-called T-zone, where the sun naturally hits most. It also works well for contouring, and more than once when I've used this I've dusted it ever so lightly across my chest for a soft glow there as well.

Papa Don't Peach Blush: Another thing I was pleasantly surprised by. Despite being a redhead, the colors typically recommended for redheads don't usually work well for me, and that includes peach blushes. But I really like Papa Don't Peach; it's not too orangey like a lot of peach blushes can be.

Free Love Lip Color: A very pretty dusty, medium pink lip color. It's got very fine shimmer to it that is not noticeable as shimmer, really (unless you're looking VERY closely!) but it just adds a little "shine". It has a bit of a funky smell to it that I'm not so crazy about, but the smell dissipates quickly after applying so I can look past that. I like that the color can be built well, from a very soft hint of color to more bold color, and it does not take a lot of effort to build it up to where you want it. I also like that it's not drying.

Tropical Pink Lip Gloss - This is a soft sheer pink gloss with pink shimmer. Goes on basically clear, with only the faintest hint of pink color. It also has a bit of the same smell to it that the lip color has, but it's not as strong in the gloss and again dissipates quickly. This gloss is very smooth and creamy, not sticky at all.

Eye Shadows: They are all silky smooth in texture and well pigmented. They also blend well. They're all shimmery/pearl shadows, so if you're a fan of matte shadows, this isn't for you.

Pin-Up - A softly pearl finish cream color, suitable for a highlight color. And on my pale complexion, a wash of this color is ideal for times I'm in a hurry and don't have time to fuss with my makeup and just need something super fast and natural looking.

Peep Show - A pretty soft dusty pink pearl shadow. This is another good one for me on my "in a rush" days to just sweep lightly from the lash line up to the brow (blending out to a softer pink at the brow so there's a "fade" kind of effect) for something soft, natural and fast.

Lucky Charms - As the name might imply, this color is a gorgeous shimmery dark green. Some might refer to the color as a forest green. I like to use this one as eye liner just as much as I like it as shadow.


Full Frontal - This is a shimmery sort of plummy dark bronze. Perfect for smokey eyes. =)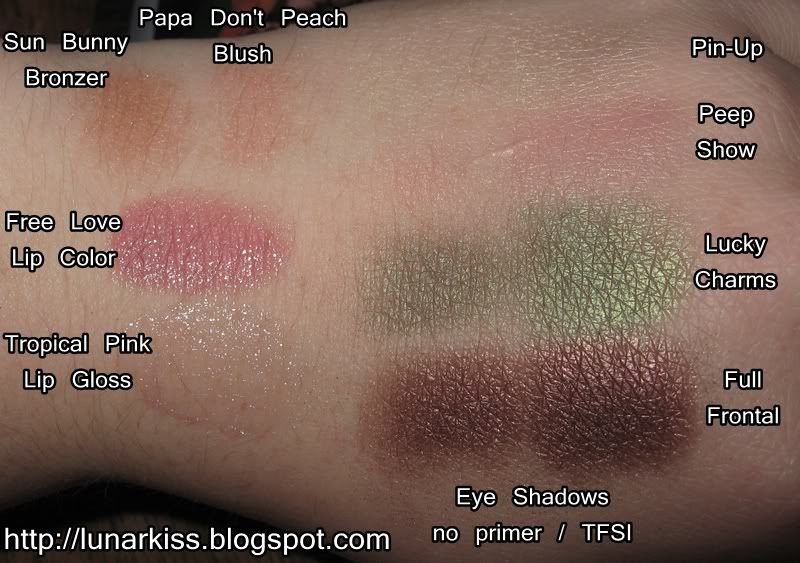 Swatches, so you can see how the colors look on a very fair complexion. This is indoors with flash and a -2 exposure compensation to keep the flash from washing everything out. (Flash tends to cause a big glare off my skin when I take close-ups for swatches, so adjusting the exposure compensation is a must. LOL) The bronzer & blush have been applied with a heavy hand and not blended out, so you can get a feel for the colors. Obviously when worn (as opposed to being swatched) they are soft and subtle.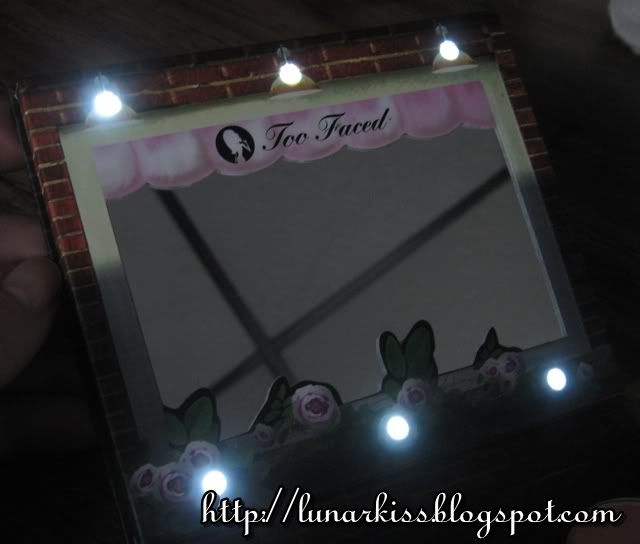 The lights: A makeup kit complete with lights? It's almost too good to be true! I LOVE that this has lights! I prefer to put my makeup on in my bedroom, which is poorly lit unfortunately. So I don't usually get to do my makeup in my room for that reason, even though I'd like to. This kit having lights means that I can do my makeup in my room when I really want to. The lights are very bright (so don't look directly into any of them!) and provide enough added light for me to successfully do my makeup in my room. Is it enough light that you could apply your makeup with no other source of light? No. But as an added source of light in an otherwise fairly dim room it's great, and it's also great for taking with you and having some light for any touch-ups while having a night out.
Overall: I really love this palette. The colors are gorgeous and all apply well and with a silky texture. The packaging is amazing. And the lights are the icing on the cake. The price tag for this one is $32.50 (USD), so for some it might be a bit out of budget. I know it's out of my budget, which makes having won it that much better. But I do feel it's WORTH the price tag, and if you (like me) are on a strict budget it's worth saving up for - provided you love the colors.
5 of 5 stars, and recommended to anyone with a penchant for vintage/pin-up inspired things and a nice "do-it-all" type palette of colors.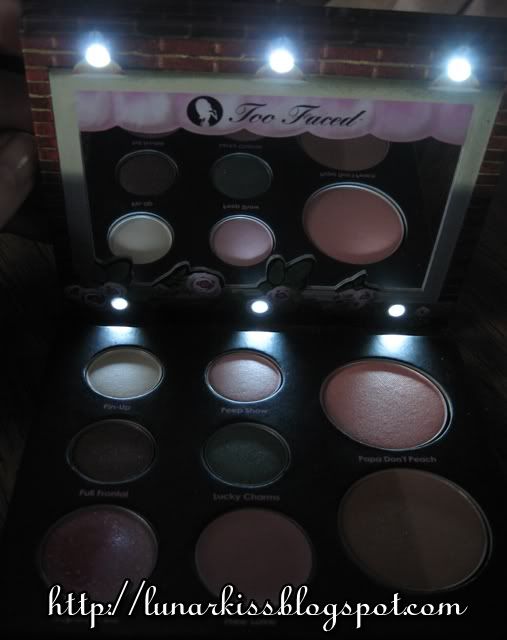 So that was my original review posted on January 18th. Again, I still feel the same way about this as I did then - I LOVE this palette!

NOTE: this item is LE - it is currently still available on the Too Faced web site for $32.50 USD.
Here are a couple new pictures that were taken recently, outdoors in sunlight: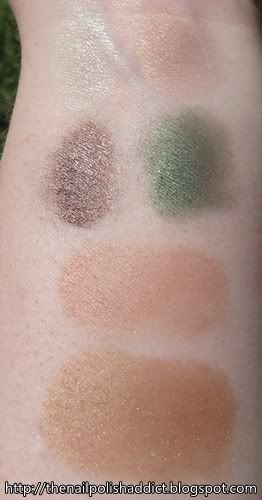 (eye shadows in same order as in palette; blush; bronzer)
(lip gloss; lip color)