I've not been able to use any of these yet as I've got pinkeye and eye makeup is therefore a huge no-no. It's mostly cleared up now but I'm holding off on the eye makeup until later next week, just to be on the safe side. I don't want to contaminate any makeup! (Also, the good news is that I had not worn eye makeup for well over a week before the pinkeye came on, so I didn't have to toss anything! Yay for being lazy about wearing makeup sometimes! LOL)
Well the pinkeye decided to hit just after I finally decided I'd put off trying out Beauty From The Earth Cosmetics (hence-forth referred to as BFTE) long enough. Oh the irony of that one eh? Finally decide to order and then, can't even use what I got anyway!
So for now, here are swatches. I'll do a proper review on the colors once I can actually use them; for now it's a review of the purchasing experience & the packaging. I will say though that just from swatching - I am in love!
(indoors, natural light, + flash)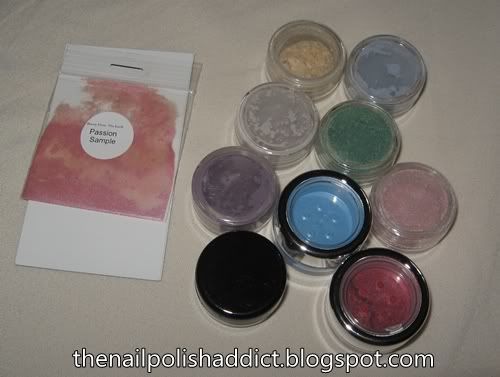 (indoors, natural light, no flash)
(outdoors, shade, + flash)
(outdoors, shade, no flash)
Colors in the two above photos are, from top to bottom (on the left is over bare skin, on the right is over Too Faced Shadow Insurance): Beautiful, Country Blue, Gentle, Nani, Belle Of The Ball
(outdoors, shade, + flash)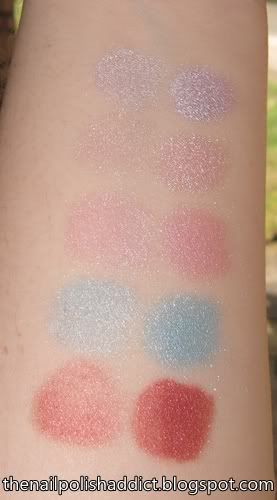 (outdoors, shade, no flash)
Colors in the two above photos are, from top to bottom (on the left is over bare skin, on the right is over Too Faced Shadow Insurance): Thistle, Princess, Passion, Clear Skies, Addicted
I do follow BFTE on Twitter (and am a fan on Facebook) and when I made mention on Twitter that I was going to be ordering and was trying to narrow down my wish list of colors, help selecting colors was offered. I ended up figuring out what colors I wanted on my own, but the fact that Crystal would have helped me pick some colors stands out to me. And I might have to take her up on that offer the next time I order! ;-) Yeah I'm already thinking of my next order. With my budget that won't be soon enough (or soon at all to be honest) but that's ok - it gives me plenty of time to ponder colors and figure out what I just have to have. =D
I got sample sizes of all but two colors, and the size of the samples is very generous. I gotta say I adore the cute little jars too. Maybe it's because I have a new niece on the way and that is influencing my thoughts on all things tiny and pretty, but I just find the sample jars to be so stinkin' cute!
I also really like that the full-size jars come with sifter inserts. Oh, sifters... you either love them or you hate them. I happen to love them. Most companies don't bother with them. Some give you a choice to get the sifter insert or not - but when you opt for the sifter they charge you more for it. BFTE's jars including the sifters is a HUGE plus for me. It's my personal feeling that you're less prone to wasting product with a sifter jar. Not to mention if you have an "oops" moment and drop the jar, there will be less lost on the floor. (As a total klutz this happens to me a lot. So trust me, sifter jars are a life saver for the clumsy!)
The turn-around time was very fast. My order was shipped the day after I placed my order. (I ordered in the late afternoon, for what it's worth.) The order was placed on April 27th (Tuesday), and it arrived on May 1st (Saturday). Fast turn-around and shipping? Score! Some companies get bad reviews for "slow shipping" & I have seen some reviews of BFTE which complain of this, but it's turn-around time you wanna take note of - once they ship it, it's up to the carrier (USPS, UPS etc.) to get the package to you in a timely manner. Also, the further you are from the source, the longer it's gonna take to get to you. People don't seem to get that, so I'm just sayin'.
When I got the envelope out of the mail box I could hardly wait to tear it open, despite knowing with my stunningly red/pink eye I would not be using anything, and when I did open it I was thrilled to see that unlike some companies there was love and care put in the packing of my purchase. All the jars were placed neatly into a plastic bag and wrapped up with pink tissue paper. Also included in the order was a sample bag of another (very pretty!) color stapled to a couple business cards. (Which, yeah... I'm going to shamelessly fling at a couple friends soon...) I used to buy from a company (which will not be named, they have a habit of name-changing frequently anyway) and the packages were ALWAYS messy, with minerals everywhere, sometimes the jars were not fully closed, labels were wrong or missing etc. Ugh, what a nightmare! So it's awesome to see that BFTE takes care in packing up the orders before sending them out. Another huge plus for BFTE!
One issue that I have is that one of the colors I got - Addicted - confused me a little. On the description on their site it states that this color is "fabulous for the lips" - which is why I got it, solely to use as a lip color. But on the jar it says that the color is "Not for use on lips". I used the contact form on their site to inquire about this, as I could find no definitive answers on the lip-safety of the ingredients in question when I searched the internet. So I decided to just go right to the source with my concerns. I am currently awaiting a response, so I'll let you all know the final verdict on the matter in my review of the individual colors later on. For now, I'm not going to use it on my lips just to be safe. *ETA* Just wanted to pop in with an update that I did get an email assuring me that Addicted IS lip safe, so score one more for good & speedy customer service when you have a question. I knew, being the weekend when I sent the message, Monday was going to be the day to get my answer. ;-)
Bottom line: GORGEOUS colors, awesome turn-around time, lots of care in packing up the order - on a scale of 1 to 10 BFTE scores a big 10 for me!