(All colors pictured indoors with flash)
Don't You Wish is a classic glitter color - clear base loaded with fine, iridescent glitter. What's not to love about it? (Unless you're not a fan of glitter, of course.) It applies well and the glitter is pretty evenly distributed; lovely on it's own for just a little sparkle or layered over other colors to give them a little something extra.
Cheatin' is another clear based glitter polish, but this has purple and blue glitter. This is an EXACT dupe for Nicole By OPI's "Gone Wishin'" nail polish, at a fraction of the price. The glitter is pretty evenly distributed, though a little less even than Don't You Wish and you may occasionally need to do a little more work to get the glitter even across the nails. But compared to some other glitters it's very good in that respect.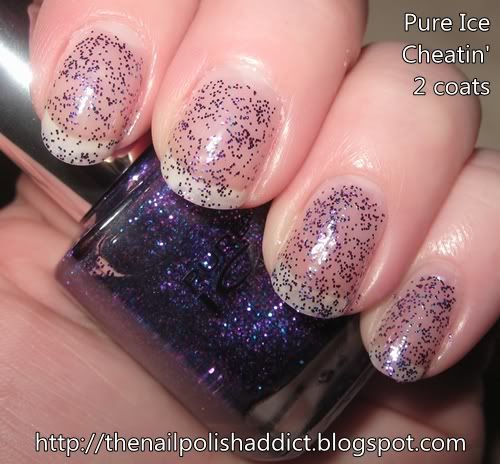 Kiss Me Here is a lovely creme finish grey polish. It's got a jelly-like texture so it starts off pretty sheer. It's a little streaky and requires three coats for even, opaque coverage. I had some issues with some pulling when applying this one too, but nothing *too* major. If I didn't truly love the color it'd be enough I would not want to use it again, but as I do love the color I'm willing to work with it to get it looking fabulous. This is surprising, too, because I don't typically have problems with Pure Ice polishes. But nobody can win all the time I guess, right?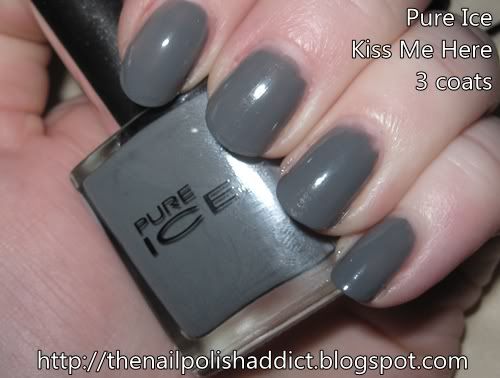 I figured I would go ahead and do a comparison of Kiss Me Here and Sally Hansen Hard As Nails XtremeWear "
Wet Cement
". They are NOT similar, there's no way they could be considered dupes; this is clear immediately. But, they're both greys. Kiss Me Here is a deeper, dark grey while Wet Cement is lighter and actually really does in fact look quite like fresh cement. They're very similar in texture and finish though; they're each jelly-like and a little streaky and require a minimum of three coats for even, opaque coverage. (Though if you're careful you can get away with two coats of either one.) No pulling issues with Wet Cement though as there are with Kiss Me Here.