Once Again! caught my eye as soon as I entered the nail polish aisle. I'm not sure if it was the color, the glitter, or both... but I saw it and had to have it!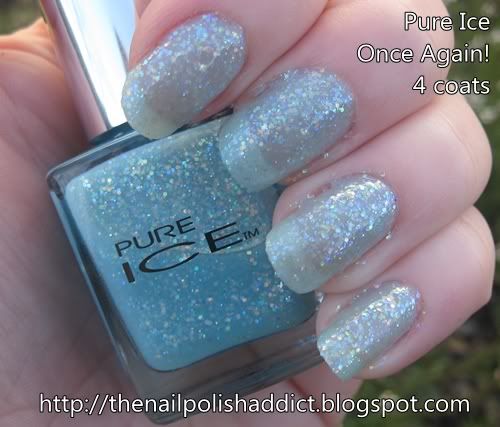 (The above photo was taken outdoors in the shade.)
This color is fantastic. As you can see it is still sheer at 4 coats, so not for those who want full opaque coverage from their polish, but if you don't mind sheers, and you like glitter, it's really very nice. It's a light sky blue almost milky jelly base loaded with holographic glitter. It applies very smoothly, and the glitter is very evenly distributed. It dries fairly quickly, too - added bonus. This looks really amazing with just one coat, but I swatched four coats to give an idea of the sheerness and to build the color just a bit so you can see how lovely it is.
The glitter is a very interesting texture, it's chunky and some of it's smaller while other pieces are bigger, making for a nice overall finish. The only thing I don't like is that the glitter sort of hangs over the free edge of the nail a bit, making the free edges rough even after wrapping top coat over them. But, this is an issue you encounter with any chunkier glitter polish so it's not that big of a deal, really.
Overall I am very happy with this color. Can you just imagine it layered over
Iris
? Or maybe
Calypso
?
Iced Orchid
? Oh the options!