I'm really liking this color combination - it is lovely. =)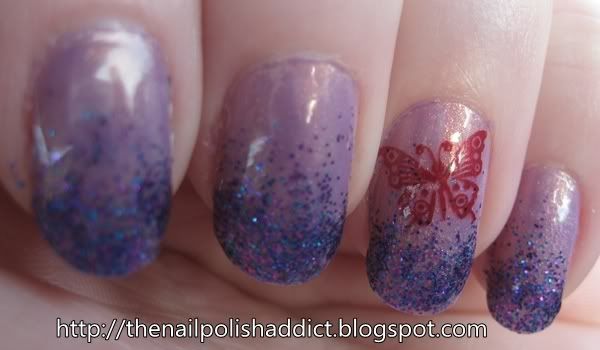 To achieve this look:
Base Coat (I used Finger Paints)
2 coats of Zoya "Zara"
Pure Ice "Cheatin" for the fade - I did 4 coats in which the first three were pulled downward a little less than the previous one to build up the opacity of the glitter, then the fourth coat was pulled down further to really complete the faded look. I used a random clear polish to pull the polish down for the fade.
Top coat & let dry completely (I used Orly In A Snap)
While this was lovely enough on it's own, I decided to add a little something extra so got my Konad stuff out; mind you I only have one IP & one special polish, so... I used the butterfly from IP 25 and Wine Red special polish on the ring finger. And then of course, top coat to seal the special polish.
As I said I'm really liking the way Zara and Cheatin look together like this. =)
As a side note I bought a new polish yesterday, I like my current NOTD enough I don't intend to take it off soon but look for swatches of the new polish some time this week. =) I'll only give this one hint: it's a Pure Ice color. (Yes, Pure Ice is like, my fave polish ever. haha)
BTW, I know most of you probably already know how to do a fade, but in case some of you stopping by are new to polish and/or don't know how it's done, if you'd like me to do a tutorial just let me know and I can get it done for you. =)