I don't think I ever got around to posting any pictures of the first Valentine's Day nail design I did. In fact now I'm not sure I even took a picture of it. I've been having some issues with my dad over the computer and have not been able to access my external hard drive because of this; he seems hell-bent on thinking that my external is messing up the computer, when it's not. So as long as he's around I'm not hooking it up, I'm sick of fighting with him over something so stupid. So if I did take a picture of the first design I did it's on the external, and I also have the rest of my swatches on the external as well. So, if he ever leaves home to go out for a while and I have the time to do it, I'll get the external hooked up and get the rest of the swatches posted and everything. But for now I'm not fussing with it, I'm too tired to keep fighting over so many things with him (don't ask, please don't even ask...) and I'm just at the point where I'm going to shut up and let him have his way cause I'm about to lose my mind.
SO.
Last night I managed to find a little bit of time to myself to do my nails and I opted for a Valentine's Day design again. I personally do not celebrate Valentine's Day, I think it's a load of hucky especially if you know anything at all about the history of the day, truly. But I know a lot of people put a lot into the day as it is celebrated today, so I wanted to come up with a couple designs to share with those who might want a little something extra special on their nails for Valentine's Day.
This one is a little different, too, in that I chose to make my main color grey. I know for Valentine's Day it's all pinks and reds, but I wanted to break away from that a bit. There is still pink and red involved, but the main color is grey.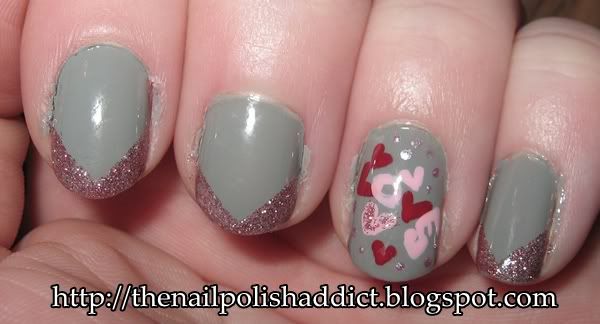 So, to accomplish this look start off with 2 coats of a creme finish grey polish. I used Sally Hansen Hard As Nails Xtreme Wear in Wet Cement, which is new to the line for Spring. Then on each nail EXCEPT the ring finger, use a pink glitter nail art polish to make V-shaped French tips. For this I used Stripe Right Paint in - you guessed it - Pink Glitter. (I'll be doing a review of these paints shortly, so if you want more deets on this product check back very soon!) Then on the ring finger I used a dual-ended dotting tool and detailing brush with pink and red water-based acrylic paints (which can be found in the craft department at Wal Mart or in art supply and craft shops) to make little hearts and to write "Love". I added a little of the Stripe Right Paint to one of the hearts. Then I used a pearly pink nail art pen to add some tiny little dots, just because I felt it needed a smidge something else. Top it all off with some top coat, as usual.
You could also do this with a white polish as your base color and it'd look just as lovely, in my opinion, if you don't like the grey.