Crystal Chic is from a past LE holiday collection of colors from Revlon. I'm not sure which year this collection was out; I want to say 2007 but I really can't be certain. Anyway, Crystal Chic is a stunning, sheer off-white cream color polish that is loaded down with amazing shimmer that is sometimes silver but more often than not it is iridescent, flashing all colors of the rainbow. It's been one of my favorite polishes, and one that I sorely regret not stocking up on as I've never been able to find a comparable dupe for this one.
Berry Chic Crystal is the wine/berry colored version of Crystal Chic, and is more opaque as well.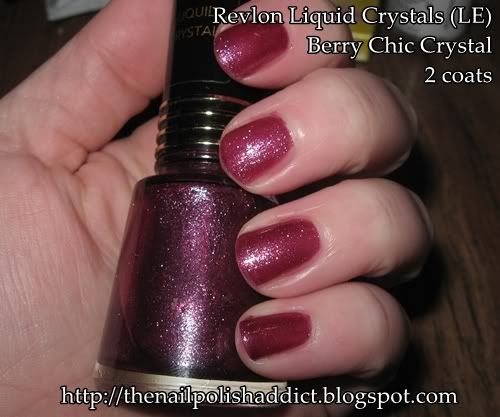 Glimmer Gloss in Grapefruit Glimmer is a sheer pink jelly base with tiny flecks of matching chunky shimmer. Every one in a while, the shimmer hints at a soft blue.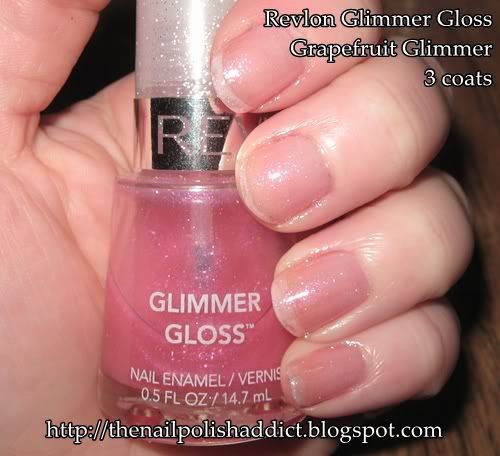 Strawberry Sizzle, also from the Glimmer Gloss collection, is the brighter, hot pink version of Grapefruit Glimmer and has a more intense blue-purple (blurple, if you will) cast to the shimmer. It is more opaque than Grapefruit Glimmer while still retaining the sheer quality of jelly polishes.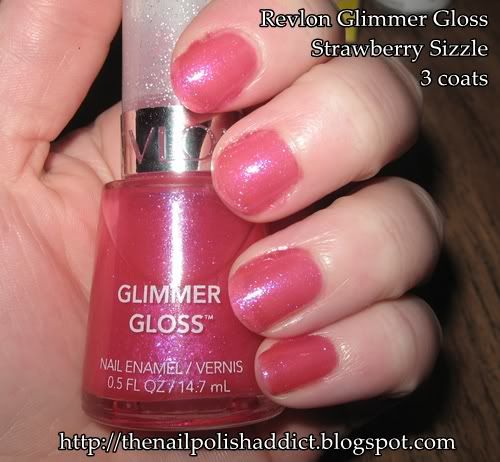 Ready for another one coat wonder? Revlon Cherry Crush is it! Deep, sultry red and with a soft metallic finish, this is my favorite red polish.