Sorry for the delay in getting a new post up; life has been hectic. I had wanted to do another Valentine's Day design for those of you who celebrate Valentine's Day, but the one design I tried didn't come out very well and I didn't like it at all. I never did manage to come up with anything else.
Anyway. These are my NOTD for today. Black holo paired with pink glitter? Life is good where the nails are concerned!
First pic is indoors with flash, then again indoors but no flash (natural light for both shots) and the third is again with the flash but slightly out of focus just to enhance the appearance of the glitter in the picture a bit. =)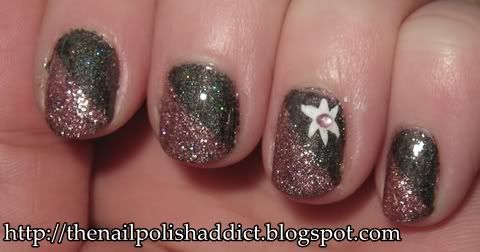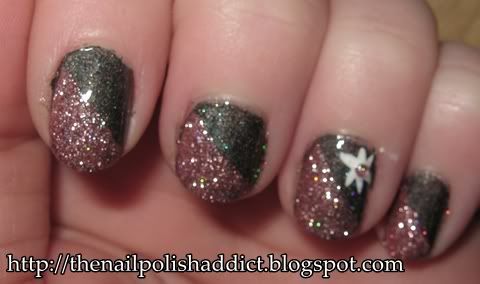 To achieve this look:
Start with base coat as always.
Apply one coat of Color Club Revvvolution to entire nail. Seal with top coat and let it dry completely.
Apply Stripe Rite Paint in Pink Glitter to half the nail on a bias.
Use a white nail art polish to create a flower on the ring finger (or all fingers if you prefer) just on the black holo polish. Place a small light pink rhinestone to the center of the flower.
Apply one coat of INM Northern Lights top coat.
Voila. =)