All swatches are indoors with flash.

Bronze Baby is a golden brown polish. Applies well but is a little sheer and slightly streaky so at least two coats are required.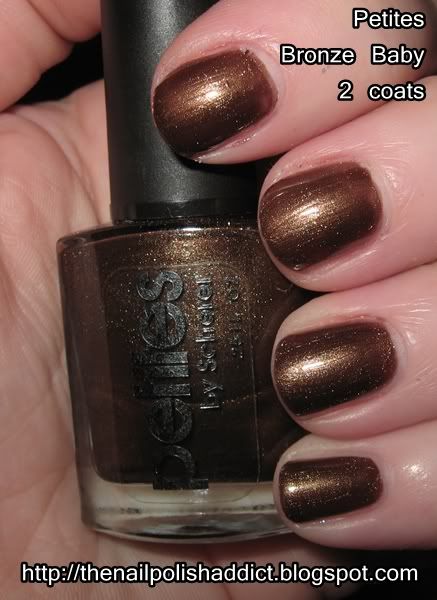 Fame is a soft jelly-like gold base loaded with chunky, foil-like glitter. Applies well but is sheer; even at there coats there is a slight sheerness to it. It has an interesting texture to it that I like.

Soda Fountain* is a color I affectionately refer to as "Pepto pink". Why? Well... as you might have guessed, it's a shade of pink that is pretty much identical to Pepto Bismol. LOL It's sheer and a little milky, with a soft shimmer to it. Applies very well though. I'm not sure how I feel about it on my skin tone, but it's still a mighty pretty shade of pink. =)


(* ETA: I know, I'm sorry... initially labeled this one as "Island Smoothie". My mind gets a bit off track doing all these swatches & posts in advance, I go through so many of them and I think I'll remember what they are without paying much attention when writing up the posts, but... sorry!)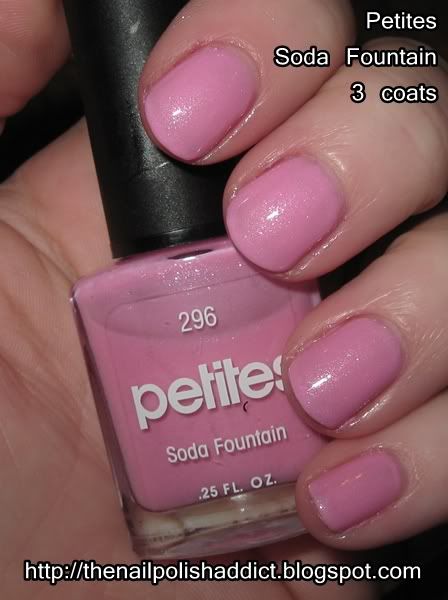 I've no idea what the color name is for this one. All I know is that it's an older Petites polish. And it's lovely.