(All swatches were taken indoors with a flash.)

Maybelline Salon Expert in Sheer Shining Star is a sheer, frosty white to pink duochrome. It's similar to Sally Hansen's Diamond Strength in
Brilliant Blush
but with a more opaque, frosty finish and the flash of pink is more vivid. It applies well but sheer and with some very minor streaking.
Born With It is also from the Salon Expert line. This color is a pale milky pink creme finish. It applies streaky and is still pretty sheer at three coats.Would make a very pretty French manicure if not for the streaking problem.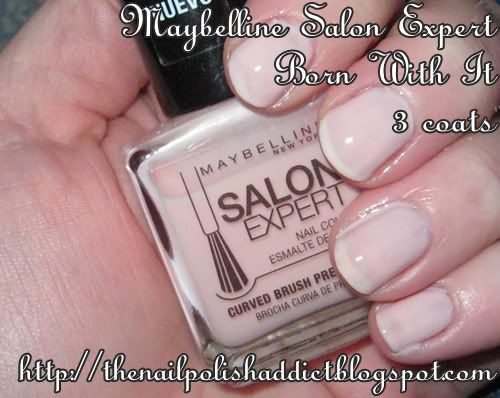 Budding Blossoms is from the Express Finish line. It's a soft pink with a frosty, slightly pearly finish. Very sheer and a little streaky going on. I've had this polish for well over a year and I'm still not sure I like it.