Colorama was a cute little line of mini polishes put out by Maybelline several years ago. They were expensive for such small bottles - $4 a piece. However, there were a couple colors that I fell in love with. These are the only two colors I've got left from this collection, and they're both nearly empty.

Give Me The Chills is a pretty top coat. The base color is a sheer peachy jelly color and it's loaded with frosty shreds of glitter that depending on the lighting can look like the peachy base color, red, orange, pink or green. This of course makes getting good photos of this color and it's various flashes of other colors tricky. I love this one for the interesting texture it offers up on your nails.

Indoors with flash: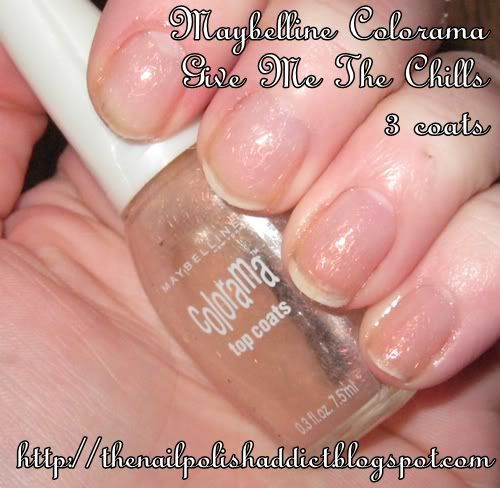 Indoors, no flash: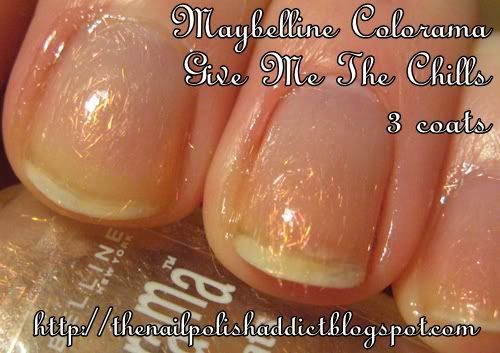 Frosty Pink is another topcoat and absolutely my favorite from the Colorama line. The base color is a very sheer jelly pink, and it has loads of multi-tonal shimmer to it much like the glitter in Give Me The Chills. The shimmer can appear to be pink, orange, red or golden yellow, occasionally even flashing a little bit of green. This is amazing over black polish. If anyone knows of any dupes for this color I'd really love to know about it as this one is almost gone - I've got maybe two more uses left in the bottle and that makes me sad.

Indoors with flash: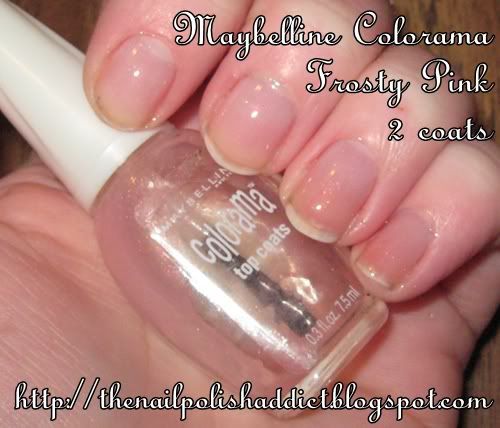 Indoors, no flash: