All swatches are indoors with flash.

Peril is a dark, shimmery blackened purple. A little sheer, a minimum of two coats is necessary; I'd really recommend 3 coats but two (as you can see by the swatch) is ok, too. Applies very well.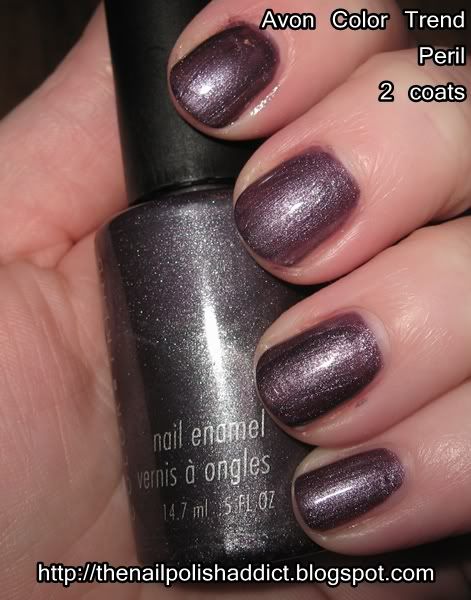 Grapesicle is my favorite sheer polish. It's a very light lilac shade of polish leaning much more on the pink end of lilac than purple, and very shimmery. It's almost got a frosty finish to it, but not quite. (Can you just see this layered over Misa Denim & Lace? I intend to try that combination out soon and will be sure to have a picture of that!) It applies VERY well.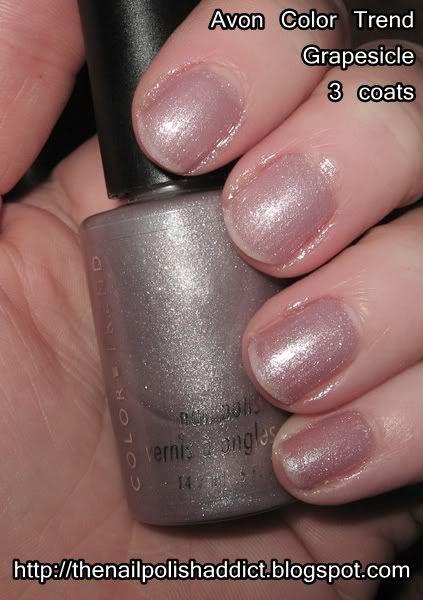 Sateen is from the Speed Dry line, and the only thing I don't like about this polish is the brush. It is a VERY thin brush; think about a nail art polish brush then double the width of that and you've got the approximate size of the brush with this polish. Hate it. But, the color is gorgeous and it's a one coat wonder and it really does dry very quickly... so... I deal with the brush.