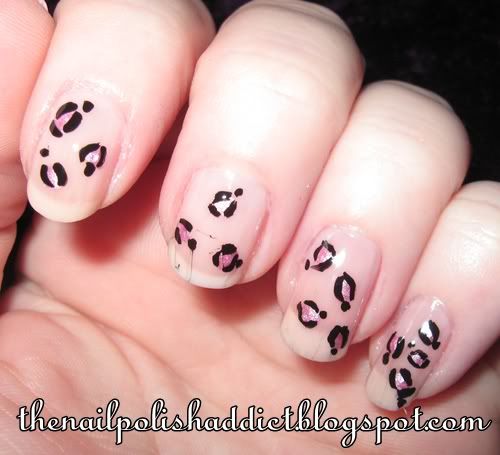 I know, the one nail has some black streaks - that's because my black polish was starting to dry and it got kinda "stringy" on me when I pulled the brush away. Oops. Oh well.

I had been wanting to do some leopard print nails for a while but just couldn't settle on any color combos, but I knew I didn't want to do the "traditional" colors. I finally decided on soft pinks. I considered hot pink, and I did actually do a quick test-run of the hot pink and light pink just to see which I liked better. Guess which one I liked more? ;-) I think a lot of people tend to do bolder colors with leopard print nails, so using softer colors makes it a little different.

It's not perfect of course, but I still like it a lot.

Here's what I used to create the look, from base coat to top coat:

Sally Hansen Hard As Nails as base coat

Rimmel 60 Seconds polish in Princess Pink as base color (2 coats)

Nail Star Two-Way Nail Art Pen & Brush polish, there are no names/numbers but it's a soft-medium toned pearly pink

LA Colors Art Deco polish in Black

Sally Hansen Hard As Nails as top coat

Orly In A Snap top coat (to help it all dry faster, of course)