Last week I picked up a bottle of the new Sally Hansen Complete Manicure polish. If you missed the previous post here's what you need to know:

Complete Manicure comes in a range of 42 colors and there's something for everyone, light sheers, bold brights and dramatic darks. These polishes claim to give you the 5 manicure essentials in one bottle:
1. Base coat
2. Strengthener
3. Growth treatment
4. Color
5. Top coat
So, how does this polish really perform?
First things first. The brush. The brush they decided to use for this polish is the same brush that can be found in the Insta-Dri line of polishes. Flat and wide. If you've never tried the Insta-Dri polishes and are not familiar with this brush, this is what it looks like: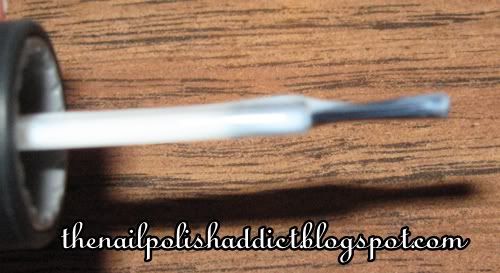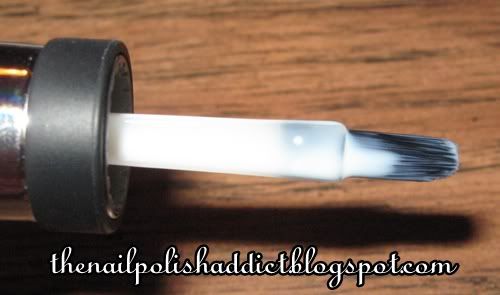 I made mention of this in my review of the Insta-Dri polishes but I'll say it again... I'm not fond of this brush. It's designed to make things easier - one stroke and you've covered the whole nail. But I just can't seem to get the hang of it, and except for my pinkies one stroke doesn't seem to be enough to cover my entire nail. I don't have large hands - my hands are average in size. So, I don't know. Maybe I'm just so used to having to use the three stroke method the mere possibility of one stroke is just beyond my comprehension or something. But my point is that I'm just not crazy about this brush.
So, moving on beyond the brush. Application. This polish promises a "salon quality" manicure with just two coats of polish. If I got the results I did from this polish at a salon, I would refuse to pay. The color is very streaky... not too much of a problem as the color I picked up - Polar Bare - is sheer. But had I gotten one of the bright or dark shades this would be a big problem.
As the claim is two coats for perfection, my swatch is just that - two coats: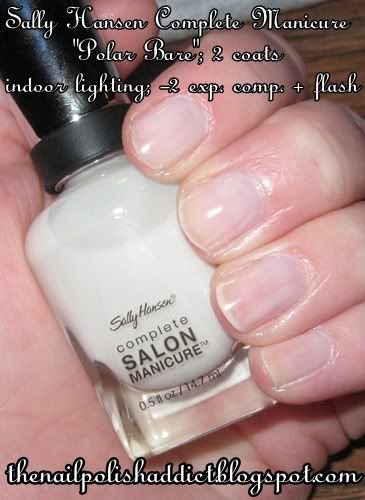 The color itself is truly lovely - ideal for French manicures. I would actually prefer this with ONE coat - there was no noticible streaking with one coat and it left only the slightest hint of color, leaving me with a "my nails but better" kind of look. Applying the second coat was where things went wrong for this color.
The GOOD thing about this polish? It dries quickly. I let the first coat dry for 5 minutes, applied the second coat, and in under 10 minutes my nails were 100% dry. I kid you not. They were dry to the touch about 5 minutes after applying the second coat, and totally dry after about 8 minutes. That is impressive. VERY impressive.
But, even as impressed as I am by the speedy dry time of this polish it just isn't enough to make it worth the hefty price tag for a drugstore nail polish - sale price averages $6.50 to $7 a bottle. Given the streaky application and the brush I just can't get the hang of using... there's no chance of me buying another bottle just because it dries quickly. Fast drying doesn't mean a thing to me if the color's a streaky mess.
My rating: 3.5 of 5 stars
I would recommend the sheer colors for soft, natural looking nails when applying only one coat, but pass on applying the second coat and pass on the bolder colors as well.