I did all three of these designs last night just for fun, when I had nothing else to do and my niece was otherwise occupied. Though she did make it a point to shake the table now and then to see what I would say LOL and she gave me her input on the designs once they were done, as well as helping me decide what to do with them when I got stuck a bit as to what colors to use and what needed to be added to the designs.

Consider these designs 4 - 6 for the Christmas nails series. They all start off with the same base color - one coat of Revlon "Cherry Crush" nail polish.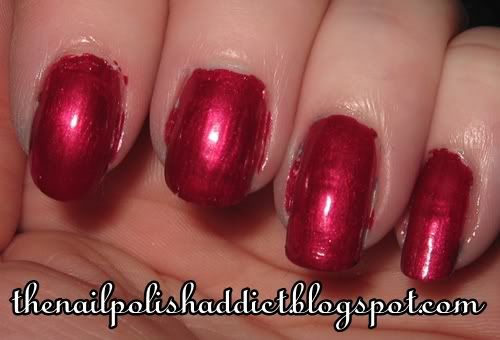 "Silver Bells"

Begin with a metallic/frosty (but not glittery!) red polish. Then use a silver nail art polish to create bell shapes on the ring finger. This is easy to do - just make up-side down "U" shapes, close them off across the bottom and then fill them in. You can do just one larger bell or a couple smaller bells, whatever you like best. I chose to do three smaller bells.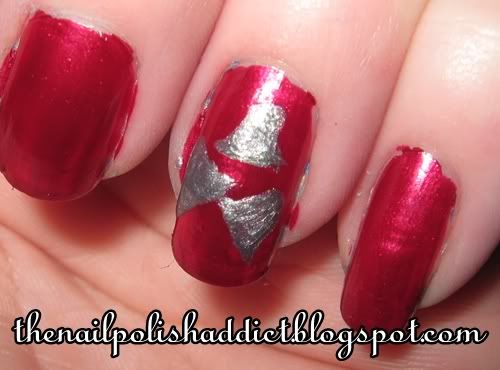 Then use a gold nail art polish to make a small dot under each bell - this makes the clapper of the bell. This is optional - the clapper of a bell is not always visible so if you'd like you can leave this part off. I just think having it helps establish the fact that these are bells.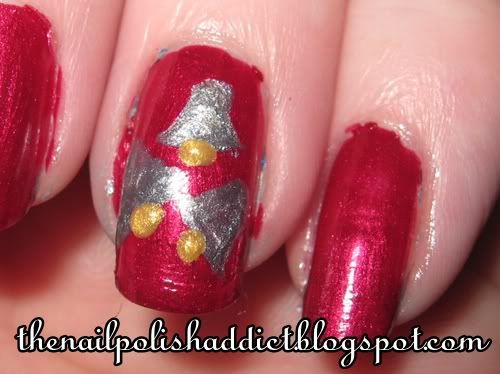 The final - and also optional - part of the design is to add some silver glitter to the bells. You can go over the entire bell or just the lower part. I went over the two bottom bells completely, and then only did the lower portion of the top bell. Either way is pretty. This just adds a little sparkle to the look. You know me and sparkle. ;-)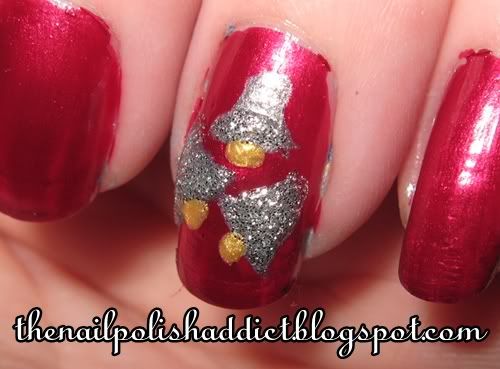 Finish off with top coat and you're done. Alternately you could use a large yellow/gold rhinestone for the clapper.

__________________________________________________________

"Peppermint Swirl"

Start off with the same red color as above. Use a sheer chunky gold polish to make THIN French-style tips. (I used Petites "Fame" - it's a sheer light metallic with varying sizes of gold flakes - not glitter, it's kind of like gold foil. Whatever you use, make sure it's a little sheer, you want the red to show through a bit.) Then use silver glitter nail art polish to make a circle on the ring finger - only make the outline of a circle, don't fill it in. Place a tiny dot of white nail art polish in the center of the circle - this just makes the next step a little easier.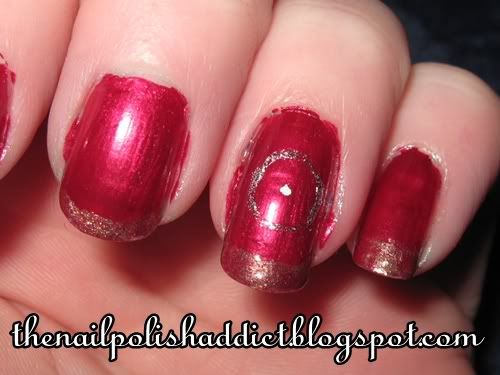 Use the white nail art polish to make curved lines inside the circle, to look like those round peppermint candies.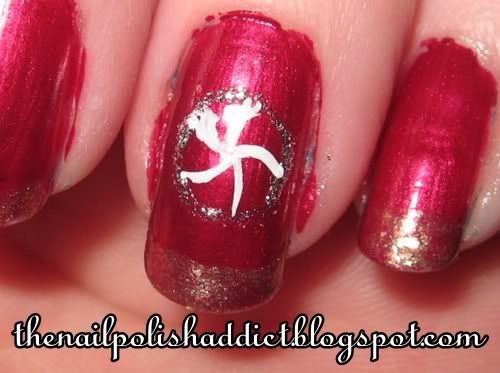 Finish the look by placing a small red rhinestone in the center of the circle.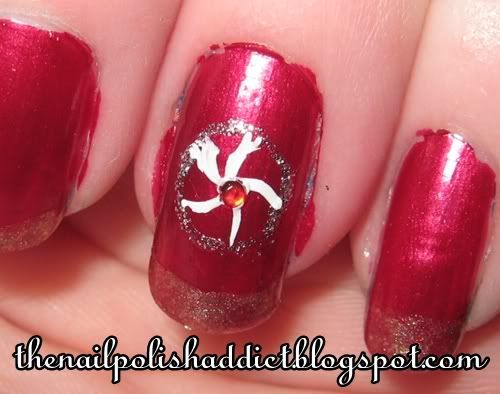 Apply top coat and you're good to go. Alternately you can use the silver glitter polish to make little triangles on either side of the peppermint circle, to make it look like a piece of wrapped candy.

_______________________________________________________________

"Don't Forget the Bow"

This is the design my niece helped most with and it was her favorite of the three. I think it's my favorite, too. =)

Again, start off with the same red as the two previous designs. Then use a gold holographic polish to make a diagonal stripe to cover about half the nail. (I used China Glaze "It's My Turn" - it took two coats to be opaque over the red.)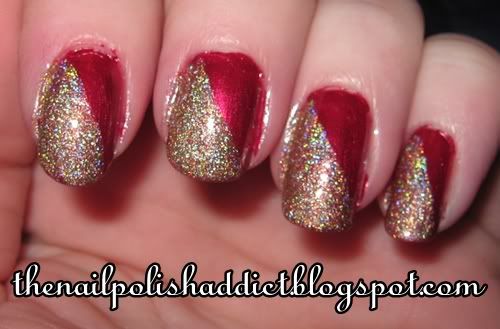 Now, you may want to do the next two steps in reverse order than what I have posted here. I wasn't really sure where this design was going till it was done, it worked well in this order but would likely have been easier had I done the rhinestones last.

Apply a small dark green rhinestone to the center of the nail, where the red meets the gold polish.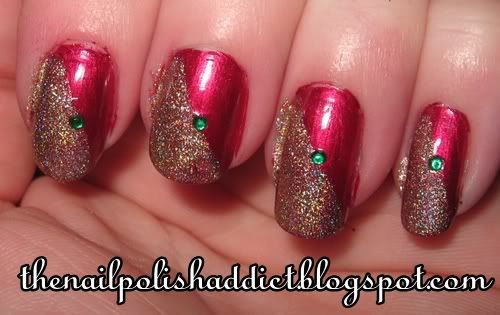 Then take a metallic silver nail art polish to make bows on each nail, with the rhinestone as the center of the bows.

Apply top coat and you're all set!