Before bed last night, I decided to add a little something to my nails to make them less "blah" - with them being so short right now there's not a heck of a lot for me to do with them as far as nail art is concerned. BUT - there are still options for me to make them all cute and prettied up, despite the short length.

Pictured above is one coat of Maybelline Express Finish in "Opti-Mist-Ic" - which I'll have proper swatches of once my nails are a little longer again - I told you the breaks were awful! lol This color is amazing, though you can't tell that at one coat!. Anyway so one coat of that, plus a couple cute designs just to make them more interesting and a coat of INM Northern Lights top coat.

Here are close-ups of the designs: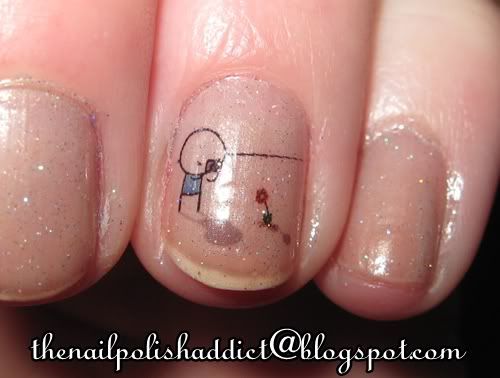 I'll show you all how I did the designs eventually. It's a tutorial I've been wanting to make for quite a while now but it's something that is a little time consuming to do, and thus even more time consuming to do a tutorial on. And y'all know I don't have much free time these days. But perhaps I can get to this tutorial - which by the way is for making your own nail decals - soon as my niece will be spending a few days with her daddy starting this afternoon so I'll have more free time available to get to this kind of stuff.

And as my final note I cannot take credit for the deisgns I used for my decals - they are NOT my own, I do not know who created them. I found them online sometime last year whilst browsing photobucket and I liked them so I saved them for my personal use only.