I mulled over it all night last night and this morning I tried out a couple different things that just did not want to work out. So I finally settled on this simple design for my New Year's nails. I'm sharing a couple pictures of this design at slightly different angles, all pictures were taken in natural, cloudy light with -2 exposure compensation & flash except the last one which is without the exposure compensation or flash. =)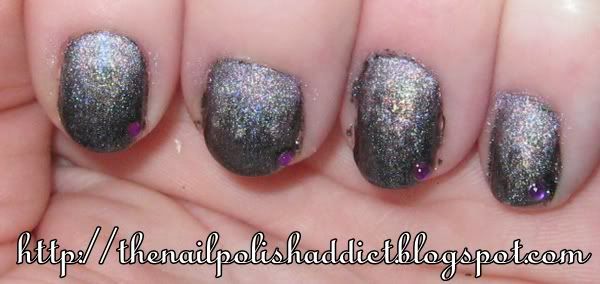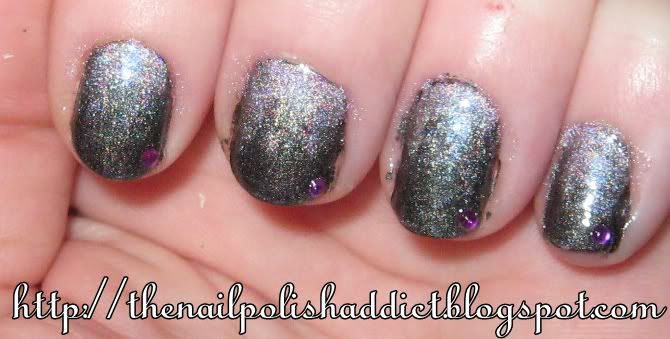 Holo fade.... oh... love. Pictures don't do this look justice, I promise it's about a thousand times more gorgeous than it looks.
I achieved this design by doing the following:
1. Finger Paints base coat - as always!
2. 1 coat of Color Club Revvvolution over the entire nail & let it dry completely
3. Apply a *very thin stripe of Color Club Fashion Addict to the base of the nail, near the cuticle. Let it dry for just a couple seconds.
4. Use a clear nail polish (I used Wet & Wild - any cheap clear polish will do here!) to lightly fade Fashion Addict upward into Revvvolution, *just about half way.
5. Let the nails dry a while and repeat steps 3 and 4, but don't take the polish as far up the nail, keep it closer to the cuticle. This makes for the best fade/gradient effect.
6. Use the same clear nail polish to apply small purple rhinestones to the upper corner of each nail.
7. Finish off with top coat (I used INM Out The Door) - don't forget to wrap the edges!
All done. See? That was easy! =)
* - If your nails are longer you can take the polish further up the nail if desired, just do whatever you think looks best for your nail length.
What's on YOUR nails for New Year's?