For the second installment of my Christmas themed nails - "gift wrapped" nails. This is also a very simple design to do. Once again, I did not do a video, I didn't even take pictures of anything but the completed nails. Been busy lately. But you'll see this is simple enough without visual guidance. (I hope anyway lol.) My inspiration for this should be obvious - gift wrap. But not the fancy stuff - classic bright red gift wrap with gold or silver stripes. =)

You need a bright "holiday" type red nail polish, gold and silver glitter nail art polishes and some small green rhinestones.

After applying base coat, apply one or two coats of red nail polish. Use the gold and silver glitter nail art polishes to make stripes on each nail except ring fingers and thumbs - don't be shy, make the stripes go in different directions on each nail. ;-) On the thumbs and ring fingers, start by making a bow. Don't worry this is easier to do than you might think. Just make a small figure 8 that's lying on it's side. Then add two little lines to make the extra length of "ribbon" that would be hanging down from a bow. Add a small green rhinestone in the center of the bow. Then add a stripe or two to look like a gift box with ribbon on it... confused? Well just take a peek at the picture to see what I mean. Finish it all off with one or two coats of top coat and you're all set to go!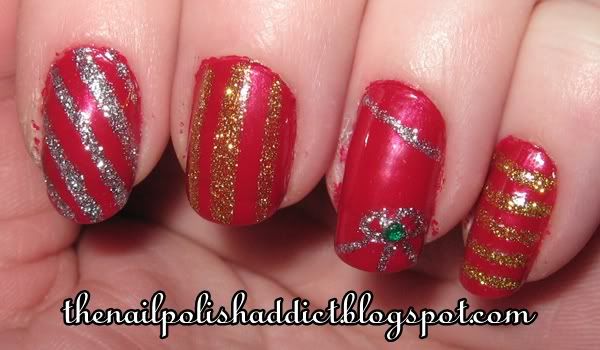 I did NOT make the nails on my right hand match the nails on my left hand. The stripes all go in different directions, plus I swapped the gold and silver glitter polishes as well. (So, pictured is my left hand with silver glitter used on the ring finger. On my right hand, the ring finger has gold glitter polish instead.)

I already have my next design planned and I cannot wait to share it with you guys - you're gonna love it! *grin*