It did not occur to me until after I'd finished painting my nails that I should have done a tutorial either in pictures or a video. Oh well. This is super easy to do though so I think a text only tutorial will be fine. =)

This is just a variation on the classic French manicure, with a SUPER simple bit of nail art incorporated to make things a little more fun.

What you'll need:

Base coat, dark green nail polish, red glitter nail polish, top coat...

(pictured are Finger Paints base coat, Sally Hansen Hard As Nails Xtreme Wear in Emerald City, China Glaze in Ruby Pumps and Orly In A Snap top coat.)

... metallic silver and gold nail art polishes and silver and gold glitter nail art polishes.

(pictured are Nail Star Two Way Nail Art Pens in metallic gold and silver and LA Colors Art Deco in Gold Glitter and Silver Glitter.)

Start off with all the usual steps, cleaning your nails, removing/pushing back your cuticles etc. Apply your base coat and let it dry. Apply dark green nail polish to your entire nail. Remember to let it dry for about 5 minutes between coats!

Once you've built up your green to the desired opacity and you've let the last coat dry for about 5 minutes, apply red glitter nail polish to the tips only, classic French manicure style. You may need multiple coats of this polish as well, if so let each coat dry for at least 5 minutes before applying the next coat.

For the next part, if you need a visual to see how things should look just scroll down to the picture at the end of this post.

Use a metallic gold nail art polish to make two *circles on your ring finger, make sure these are only on the green polish and not overlapping onto the red tips. These circles are your "ornaments". Use a metallic silver nail art polish to make the hooks on top of your ornaments. Let this dry for a few minutes and then use a gold glitter nail art polish to fill in the top and bottom portions of the ornaments, leaving a thin stripe in the middle. Fill in that thin strip with silver glitter nail art polish. Let everything dry for a few minutes before applying top coat.

All done!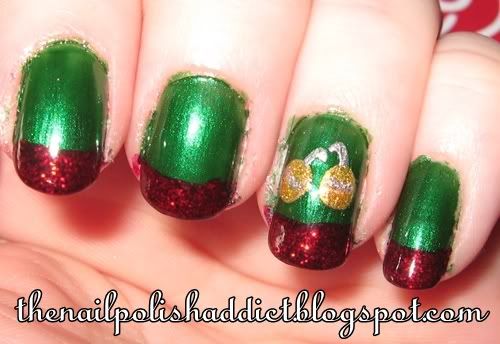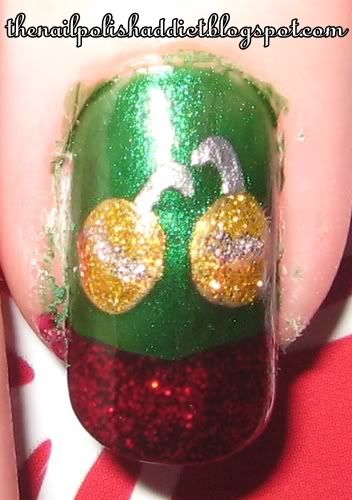 (I know, I know... gotta clean up the edges before taking pics. I don't know why that's so hard for me!)
* - You can just make the outline of a circle or you can fill the circle in completely with the metallic gold polish. I filled mine in just to give the glitter polish a little more depth once I added it later.

You can of course make the little ornaments on more/all of your nails, but I prefer to just keep it to my ring finger. I also only did the ornaments on my left hand as I am right handed and even though this is a very simple design I think I'd have probably screwed it up had I tried to put the same design on my right hand as well. lol

I will be doing a couple more Christmas themed nail designs between now and Christmas so if you like this design and want to see more with a Christmas theme be sure to check back!