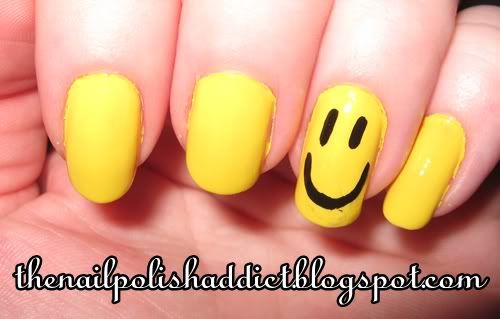 Sorry for not posting for a little while. Something happened that's left me with the responsibility of taking care of my 9 year old niece full time at least for the rest of the school year. So, my days have been a little hectic between waking up early to get her ready for school and getting her TO school, taking care of all the usual chores and the added cleaning up that is required with a kid around, getting her home from school etc. I've hardly had a chance to blink the past week! LOL

Anyway, pictured above is what my nails looked like for the first part of this week - 3 coats of Sally Hansen Hard As Nails Xtreme Wear in Mellow Yellow with some LA Colors Art Deco Black polish for little smiley faces on ring fingers and thumbs. My niece said it would look better with "people" on all my nails. I never did add any more though.

I almost got some of the HD polishes from Sally Hansen the other day, but I wound up putting them back. Don't get me wrong, they're very tempting and I've seen some great swatches. But I just can't justify getting them when the colors I'm most interested in are so similar to colors I've already got in my stash. I did however grab a new one from Maybelline's new collection, because I don't have anything like it at all. I'll try to get a swatch and review of that one up soon.

I'll be posting my next Christmas nail design - the one I am SUPER excited to share! - hopefully later today but if not today then I will definitely make time for it tomorrow. Then I will try to get at least one more design posted before Christmas next week - maybe two, depending on how much spare time I can find to devote to my nails.