When I was out with my niece and sister over the weekend the little one wanted to stop in Claire's. It had been years since I'd been in a Claire's... it seemed more geared toward little girls than I remember. I mean I know I've grown up too but the Claire's I remember going to when I was younger had SOME stuff for the really little girls but it was mostly for teens, and they always had stuff for prom. But anyway while the little one was looking around I spied their nail polish rack, so naturally I had to get a closer look at the colors. I wound up getting two. (Which for the record was hard to do, I really wanted to get more! lol)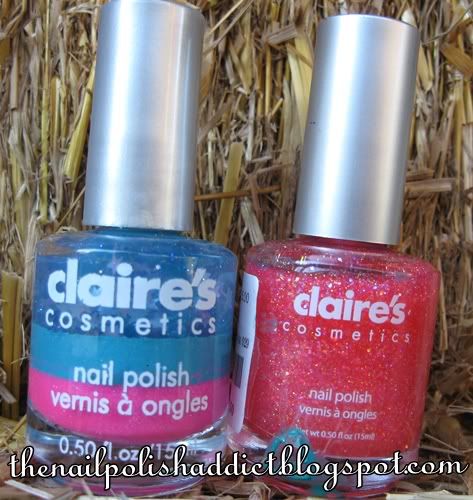 The first one I got is a 3-in-1 polish, the color is called "Stardaze" and of course this was the one I HAD to try first. I did not get a chance to take pictures of it though, with my niece here for several days I hardly had time to paint my nails with it let alone get pictures of what it looked like. But I'll get some swatches of that one up soon too - for now I'll just say that I'm undecided on it, I need to use it again and get a better feel for it anyway.

And the second one is called "Glitzy". Who could pass up bright pink with glitter? I know, there's some gunk on the bottle from some other color. I normally would not buy a polish if the bottle had stuff on it, but it was the last bottle they had of this color, and I HAD to have it. So I was willing to overlook the gunk to get the color.

As I did not get a chance to try this one out until after my niece left last night, that means this morning I had a chance to take pics for a swatch of this one. =)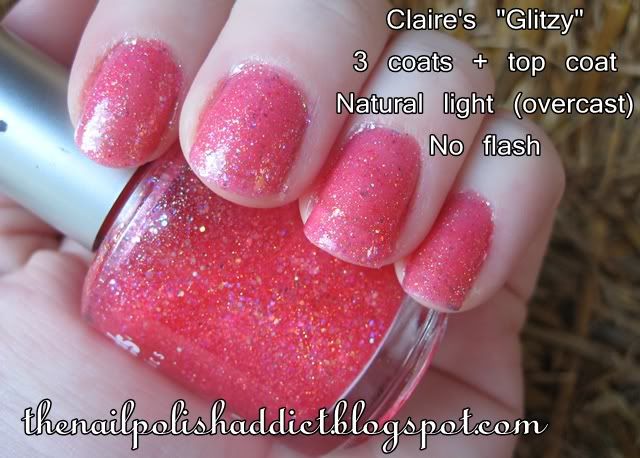 Glitzy is a very glam and blingy color yet at the same time it isn't over the top... well, it's as "not over the top" as a hot pink glitter nail polish can be, anyway. ;-) This polish is loaded with holographic glitter, some of which is microglitter and some is a little chunkier which makes for some really great texture and depth. All this fabulous glitter is suspended in sheer hot pink jelly polish. At three coats you can see it's still ever so slightly sheer, but pretty much opaque bottle color. It dried relatively quickly, but it dried down to a semi-matte finish - not something I personally think pairs well with the glitter that is in it. So I topped it off with some Seche Vite to add shine, and that made the color perfect in my opinion.

This polish applied beautifully, I had no trouble with it at all. No streaks or anything. Just beautiful, glittery pinkness. =D

Since these are the only two colors of Claire's nail polish I own I can't form any opinions on the polish in general. But as far as "Glitzy" goes... I love it and would definitely recommend it to anyone who loves pink glittery goodness on their nails. I think it'd probably be an ideal toenail color for those who tend to be more conservative with their finger nail color choices but like to spice things up a bit with brighter colors on their tootsies.

One note though - this color was on clearance. (98 cents!) So, if that means what it generally means in the makeup world, this color might be a little hard to find. And if you do find it and love it as much as I do, you might want to grab an extra bottle. Or two. I know I'm going to have to go to another mall to see if the Claire's there has Glitzy because I can see this color is going to be used a LOT, especially in a couple months when the warmer weather rolls in again. ;-)