Have you seen any of the cute new sets available for the holidays from Sally Hansen? I don't know if they are available at other stores or not, but I found them at K Mart.
The mini sets are adorable and sold in sturdy yet flexible plastic containers designed to look like small hand bags. For $4.99 USD a piece, they're a great bargain. They would be ideal for those who are just getting into nail polish or those who don't wear polish often but like to have a couple bottles on hand for when they do want to do their nails. Also ideal for those not familiar with Sally Hansen polishes and wanting to give them a try. =)

I actually purchased the Xtreme Wear & Diamond Strength sets a few days ago, and today I went back for the French Manicure set. I just had to have them all!
Xtreme Wear Set: Contains 5 mini Hard As Nails Xtreme Wear polishes: Fuchsia Power, Purple Potion, Strobe Light, Lime Lights and Marine Scene.
Diamond Strength Set: Contains 5 mini Diamond Strength polishes: Diamonds, Brilliant Blush, Nude Shimmer, Must Have Iris and Honeymoon Red. (Note, I am not sure on Brilliant Blush. Could also be Shining Star - the colors are very similar in the bottles. I did my best to determine which color it was but I really can't be 100% sure on that one. The rest I am sure though.)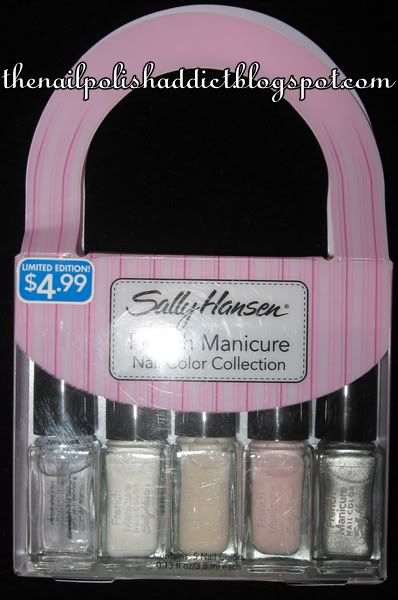 The French Manicure set contains 5 colors that are classic French manicure worthy as well as classic French manicure with a twist ; I am not sure which line of polishes these ones are so I do not know the color names, but included are a clear top coat, a classic opaque white "tip" color, a sheer flesh tone color, sheer pale pink, and an opaque metallic silver "tip" color as well.
I really like all three of these sets a lot. There were colors in the Xtreme Wear and Diamond Strength sets that I'd been wanting to try for a while, so now I get to try them before committing to the full-sized bottles. And I think every nail polish addict needs a good set of classic French manicure colors - after all, sometimes it's nice to go back to a classic look. I love to rock the funky French manis and all sorts of other designs but there are also a lot of times when I love the simple, understated classy look of a classic French manicure. =)
In fact I like these sets SO much, I'm holding my first contest and the prize I am offering up is a Diamond Strength set. Yep, I went out and bought a second set to give away as a prize. If I had the money I'd have bought a second of all three sets to give away the whole kit an' caboodle or to have three separate prizes to give away, but with money tight as it is just the one was all I could swing. But that's better than nothing right? I chose the Diamond Strength set because I think the colors are most suitable for such a thing (I know not everyone likes the funky colors of the Xtreme Wear line!) AND this seems to be the most popular set and it's selling out fast. In fact, I grabbed the last one today. So I thought it was the right choice for the prize for my contest. The contest post has been "stickied" up above this one, so you may have already read all about it. ;-)