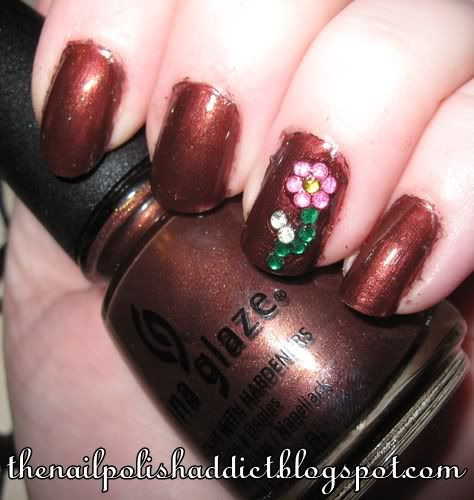 (Pictured above is 2 coats of China Glaze "Unplugged" nail polish with rhinestone flower embellishment on the ring finger, all toppped with Sally Hansen Hard As Nails & Seche Vite Dry Fast Top Coat.)

Rhinestone flowers are probably the easiest nail art you can do, whether on someone else's nails or on your own. If you've got the following supplies (in addition to nail polish of course), you're set for some rhinestone flowers:

rhinestones

a toothpick

clear nail polish (any sticky base coat or a top coat will do just fine if you don't have clear polish)

Start by applying your base coats & desired base color of nail polish - or for something really unique just apply base coat and skip colored polish. Depending on your base coat of choice you can move on with just the base coat or you will want to add a coat of clear nail polish. (For instance, "sticky" base coats should be fine on their own, while ridge filling base coats may need a coat of clear polish.) If you use a colored polish, give it about 5 minutes to dry a bit before moving on. If you've only used base coat or clear polish, there is no need to wait before moving on.

Get your clear polish (or base/top coat) and put a small amount on the tip of the toothpick. Use the toothpick to pick up your rhinestones one at a time - make sure to touch the toothpick to the TOP of the rhinestones, not the bottom! Place the first rhinestone, which will be the center of your flower, on your nail. You will not be able to manipulate it's position much so be careful of your placement, and then gently press down on the rhinestone with the toothpick to secure it in place. (If your polish has set too much for the rhinestone to stick just put a tiny dab of clear polish where the rhinestone will be placed; no need to wait for it to dry.) Continue to pick up and place rhinestones around the center stone to make a circle of "petals" around the center - depending on the size rhinestones you're using and how much space you want between the "petals" this could be 5 or 6 rhinestones. If necessary dab some more clear polish on the tip of the toothpick so it can pick up the rhinestones.

Voila! That's really all there is to it. You can add stems and leaves to your flowers if you wish, with either more rhinestones or with nail art polishes. Top it all off with one or two coats of top coat to help seal the rhinestones to your polish and prevent them from falling off, and you've got yourself some simple and lovely nail art. =)