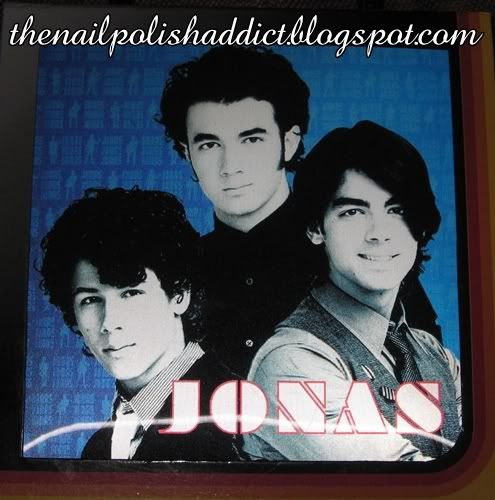 Having an 8 year old niece (who very soon will be turning 9) means, I'm exposed to more teeny boppers and tv shows I'd rather not even know about let alone become familiar with. But some of the stuff is not that bad, and some of it grows on you after a while. I'm not ashamed to say that I do in fact watch Spongebob, iCarly and other such shows.... even when my niece is not visiting.

And while I am not crazy about their music, I'm learning to appreciate the Jonas Brothers and I find their tv show very amusing and it's another on my list of "I'll watch even if my niece isn't here" shows. Joe Jonas is adorable, Kevin is hilarious, and Nick... well Nick I'm not sure about to be honest LOL but Joe and Kevin are winning my heart with time.

So while I had my niece for the day I decided to let her do a little birthday shopping, since I will probably not get to see her for her birthday. Among the things she got was a Jonas makeup kit. It came with the standard "little girl" makeup kit items while still being just a smidge more "grown up" to suit the tweens who adore the Jonas Brothers - namely body glitter and a lot of lip gloss. And nail polish. Which naturally, I HAD to try out asap before my little one went home and took the goodies with her.

Being part of a little girl's kit I did not expect much of these nail polishes. They were better than I expected. Not so much that I'd go grab another of those kits just for the polishes... but enough that I'm happy to leave my nails painted with the stuff for the next couple days till it shows enough wear to warrant taking it off.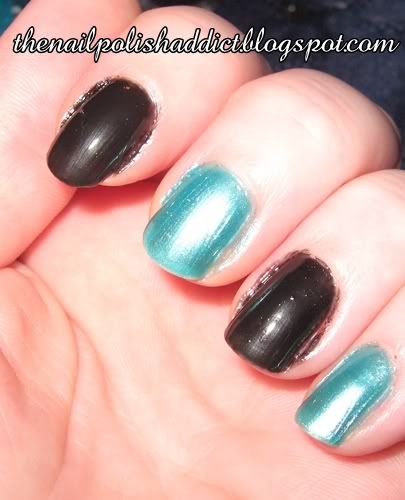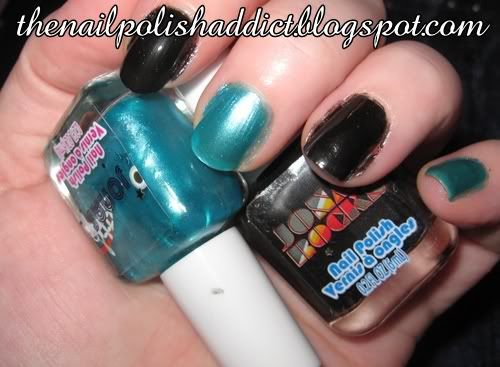 (I know, I KNOW.... I'm still working on that whole "clean up the edges before taking pictures" thing.... I don't have the patience for that most times ok>)


The black polish (am I to assume the color is being called "Jonas Rocks" ?) required three coats for even, opaque coverage. Fairly average among black polishes, so not much of a bad thing there. It dries down to a semi-matte, satin finish and has the slightest hints of charcoal shimmer to it. It almost seemed a little gritty in texture when I was applying it, yet it still applied pretty smoothly.

The turquoise color ("Jonas" ?) is beautiful, pearly and fabulous. It looked good with two coats, but I added a third coat for good measure. It applied very smoothly but a tiny bit streaky and dried to a nice glossy finish. It's ever so softly metallic (if that makes sense?) and I really like the color a lot.

Overall, I'm impressed simply because I know the quality of "little girl" nail polishes tends to be atrocious, it's somewhere between Bon Bons and Petites nail polishes; a bit closer to the Petites range of quality. (Bear in mind that I love Petites!) I think if you're a polish snob (admit it, we can all be snobby about things sometimes!) and only use higher end polishes you'd probably be disgusted with these polishes. But if you can appreciate the "cheap" stuff then you'd probably find it suitable. And I do think it's probably perfect for little girls and tweens - a huge step up from the usual nail polishes they have included in these kinds of makeup sets! Honestly I think the brushes are probably the worst part of the polishes; if the brushes had been better the application would have probably been smoother and less streaky. Remember those stiff nail polish brushes with the blunt ends of the 80's and early 90's? That's what the brushes were like in these polishes.

Would I encourage you to go buy the set just for the polish regardless whether or not there are any little girls in your life who love Jonas? No. But if you DO have a little girl in your life who loves them and you get this set for her... I would encourage you to at least give the polish a try, even if only for fun with your little one. =)