Get ready to bust out your creative skills ladies - I'm holding my first contest!
(This post has been made a "sticky" to remain at the top of the page for the duration of the contest. Please scroll down for new posts not related to the contest. Thank you.)

This contest is open to anyone in the USA (INCLUDING Alaska and Hawaii) & Canada. No age requirements, nothing else special. If you live in the US or Canada, you're welcome to enter. =)

The most important thing everyone wants to know about: the prize. There will be ONE winner, selected by myself. The winner will receive one Limited Edition Sally Hansen Diamond Strength Mini Nail Color Collection.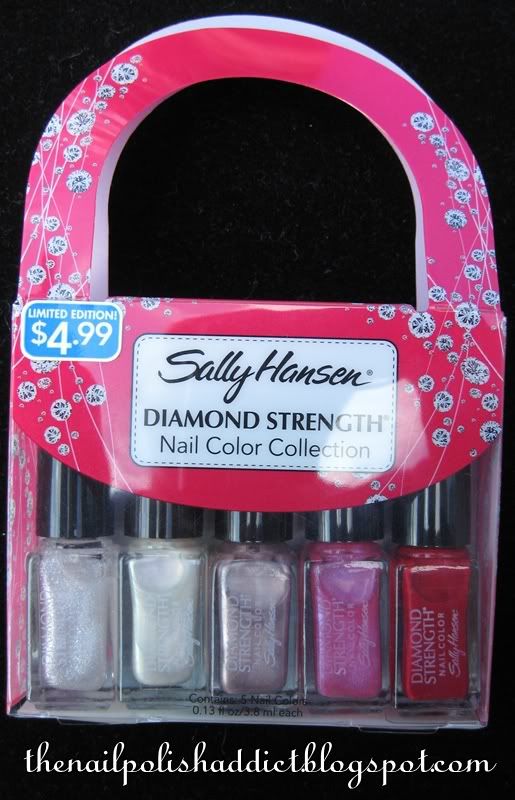 This cute set comes with 5 mini Diamond Strength polishes. The colors are not labeled but after a peek at the regular polish display *the best I can tell the colors included are from left to right: Diamonds, Brilliant Blush, Nude Shimmer, Must Have Iris and Honeymoon Red.
* I spent ten minutes looking at the full-sized polishes and trying to compare them to the minis to be sure I got the right color names; the only one I'm unsure of is the one I have labeled as Brilliant Blush; this color is also very similar to Shining Star. Either way it's a pretty color. =)

As you can see from the photo this set retails for $4.99 (USD) and is packed in a cute "purse" made of sturdy yet flexible plastic.

So, what do you have to do to win?

Entering: To enter this contest you must create a Winter Holiday themed nail design. Whether your design is Christmas themed, Kwanzaa or any other Winter holiday of your choosing OR simply Winter themed is up to you. Winter and the various Winter holidays are the theme, as long as it falls under one of those categories anything goes! To submit your entry simply leave a comment on this entry and include at least one photo of your design. You can share more than one photo if you like, however you may only enter one design. You MUST provide your email address in your entry so I know how to contact you if you've won. If you do not wish to have your email address publicly shown in the comments (I know, I wouldn't either!) you are welcome to e-mail me your entry at polishaddictcontest(at)gmail(dot)com instead of leaving a comment with your entry.

Entries will be accepted starting now through Friday, December 4th at 12 Noon EST. Any entries posted after Noon EST on December 4th will automatically be disqualified. A winner will be selected by Monday December 7th and contacted via e-mail. Note that if you are selected as a winner but I do not hear from you within 48 hours of notifying you that you have won, an alternate winner will be selected.

Once a winner has been chosen and their prize sent on it's way, their design will be featured on the blog as the contest winner.

So, you've got till December 4th ladies. Get those creative juices flowing and start coming up with your entries! Good luck to all who enter! =)