Last night not too long after I'd slipped into bed, I thought this cute, simple design would be perfect for Autumn. Rather than waiting till morning, I got out of bed and got out my polishes and a wheel and in just a couple minutes I was done and could go back to bed.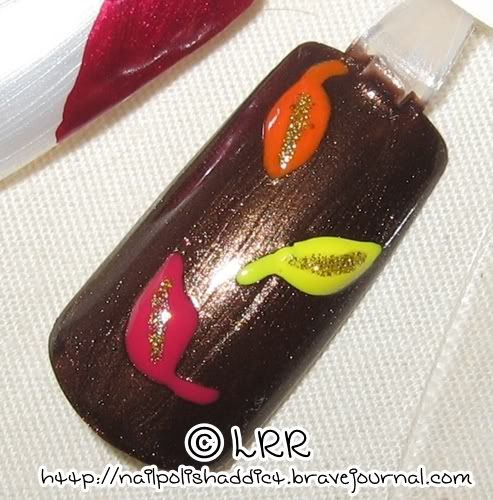 I know my leaves are not very... leafy. LOL But, for my limited artistic skills I think they're cute. I added the gold glitter just to add a little dimension to them, and make them look a little more leafy and less blob-ish. :p For the brown base color I used Petites "Bronze Baby", the red yellow and orange are all Nail Star Two Way Nail Art Pen colors, and the gold glitter is LA Colors Art Deco.

I think this design would be great for airbrush art, and the red yellow and orange could be lightly blended together on the leaves to look more realistic. I don't have any airbrush supplies though. That's something on my nail art wish list.