Revlon Glimmer Gloss in Pina Coloda Pop is a very sheer shimmery yellow polish with tiny flecks of gold. I wouldn't call the gold bits "glitter", nor is this something I would call a glitter polish, but it does have intense sparkle in the sun. It goes on very smoothly and evenly, no issues with this one. Pictures really do not do it justice, it is so pretty. Definitely not for those seeking opaque coverage though, as it is not very pigmented.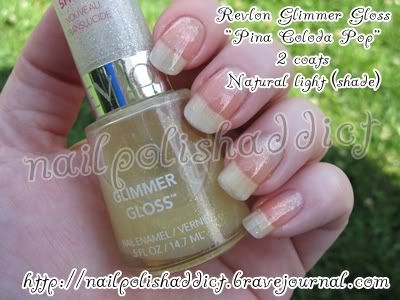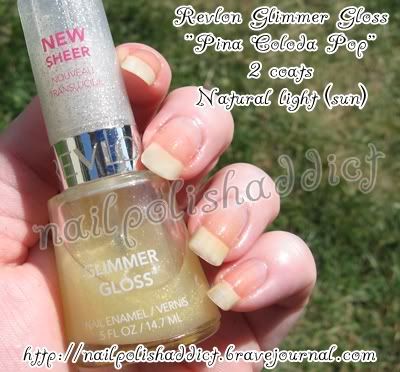 Zoya South Beach Ice is one of the shades from the Zoya Polish Exchange that was nothing like I expected based on Zoya's swatches. I am not crazy about it - if it were what I thought it was I would be mad about it. But, it's starting to grow on me a little, and while I know it is never going to be a front-runner among my nail polish collection, I am at least starting to like it.

Supposed to be a glitter polish, I would say it's more of an intense shimmer than glitter. It is a slightly silvery pale green color, and goes on smoothly and evenly. Another color not for those who do not like sheers, as it is very sheer.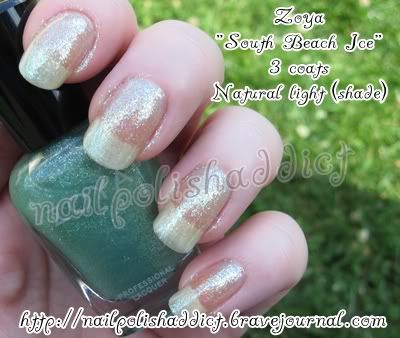 Maybelline Express Finish in Go Go Green is a golden lime green color. It goes on a little streaky, and is a little sheer with two coats. Not one of my favorites, I am actually planning to give this one to my niece as she loves it, and I honestly don't use it often enough to justify keeping it.

Zoya Felicity is quickly becoming a favorite. It is a soft pink shade, with very subtle hints of gold. Pictures do not do this polish any justice at all. It is sheer, and goes on just a tiny bit streaky but successive coats (even only two coats of color) evens it out nicely, and the color is so beautiful...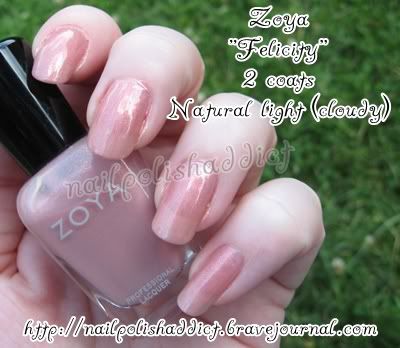 Lacura # 104 (I don't recall the name of the color, it was on the box but not on the bottle, only the number is on the bottle) is an opaque, cream rosy mauve color with beige undertones. It goes on uneven and streaky, and seems a bit too thick in my opinion. Two coats does give fully opaque, bottle color, and seems to even out the streakiness but I am still not fond of the texture of the polish when applying. It definitely needs two coats, minimum, to look fabulous. It has an amazing shiny finish to it.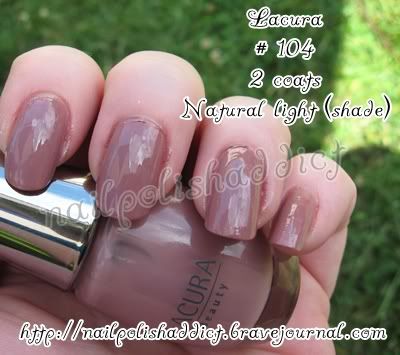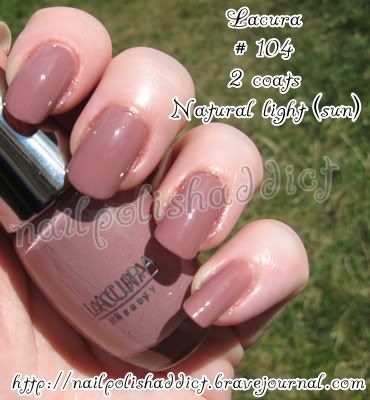 This is a mystery polish. I have got NO idea what the brand or color names are - but it's a bottle (and color) that would be impossible to miss if you spotted them. It was among a big box of old polishes my aunt gave me, so it's probably from the 90's - in other words, not around anymore. (And yes it's that old but still good... amazing eh?) I plan to give this to my niece as well, as I've out-grown this type of glitter polish and I think she'll get a lot more use out of it than I will.