My niece called asking to spend the night at her friend's house, and of course I said yes. She needs some kid time with her friends. And I could use the quiet time, too. LOL

So that meant I had time to do something fun with my nails, rather than just painting them and calling it a day as far as nail polish goes. It's been a while since I have had time to use my Konad stuff, so I figured I'd get that out and do a little something. This is what I came up with: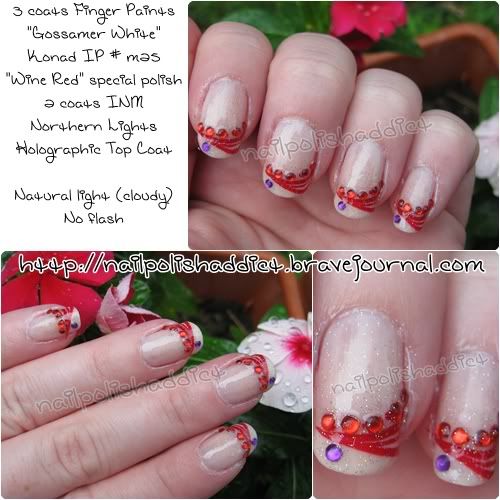 Of course I had to break out the rhinestones, too. :p I added the purple rhinestones as a last minute addition... I just thought the design needed a little something more, and I decided maybe just a little pop of purple would be good. I know it's nothing spectacular, and I did not do a perfect job on it. But I'm learning to let go of the need for perfection - it'll only drive you mad trying. And... I quite like it despite the imperfections. =)

It did however serve a negative purpose... I definitely need more image plates as soon as I can afford to get a couple more. I need some of the French tip plates... cause using half of a design to create French tips was NOT easy. At all. haha I also really need to try to get some more special polishes, because only having the one color (and just the one image plate.... oi) really limits what you can do. But, money is super, super tight right now so.... unless we hit the lottery, I will just have to make due with what I have.