I was able to squeak in a couple new polishes today while shopping. These are three of the four; fourth shade is going to be shown in the next post. I apologize these are kind of messy; I wasn't feeling patient today.

Busted is a sheer blue-purple based color with matching shimmer with a golden pink flash. I imagine it would be a fun color to layer over darker colors. Applies beautifully with no issues at all.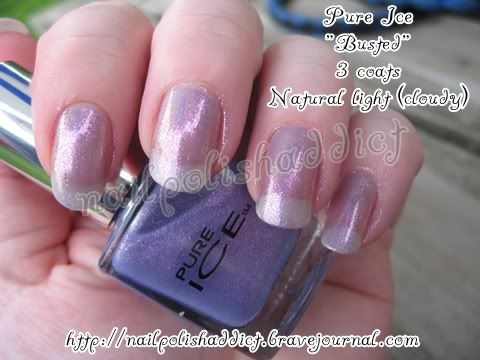 Envy is one of my new favorites, I think. It is a rosey beige/tan shade, leaning a bit more to the rosey side than tan. (I think... that's what it looks like to me at least) with a cream finish thus no shimmer whatsoever. I am a glitter girl and I love shimmer, but there are certain cream shades that have been getting my attention lately and this one I am very happy with. It applies a bit streaky and sheer with one coat, but two coats evens things out perfectly and gives opaque color.