OPI "Thoroughly Modern Millie"
- This color is hard to describe, but I will try. It is a sheer, subtle pink that at some angles looks kind of peachy, lilac, coral or mauve-ish but it is NOT a duochrome color by any means. Iit has silver microglitter in it for some sparkle. I know that might not sound special but I'm not very good at describing colors, that's the best wordy description I can think of but it certainly does not do the color justice, nor do my pictures. Anyway, it is very sheer and not buildable to bottle color. It goes on very evenly and smooth, and it is one of my favorites. It also adds a little dimension when layered over darker colors.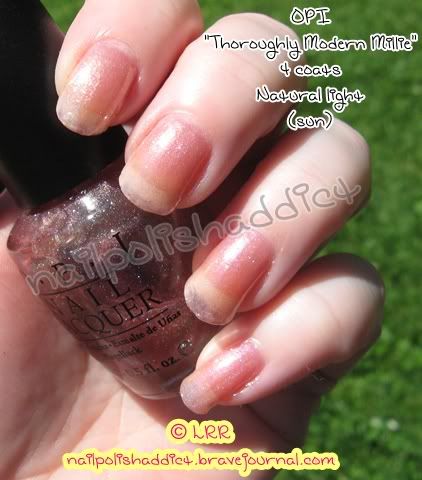 OPI "Cabernet For The Lady"
- This is one of my favorite red nail polishes. It is rich and deep without being too dark. It has very subtle shimmer that really stands out in the sun. Goes on very smooth and even, it is opaque with just one coat. Swatches are 2 coats only because the base coat I was using was too thick and goopey and made application less smooth than usual and I had to even out the color a bit, but with a good base coat (yes I tossed the one I used for these pictures) one coat is all you need.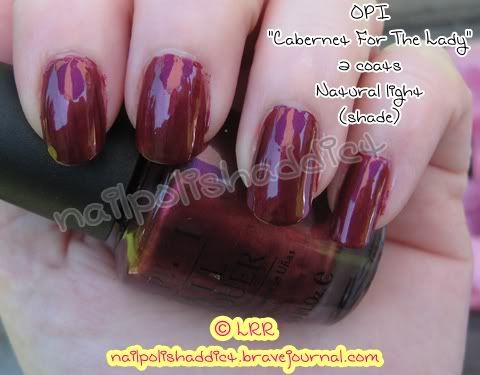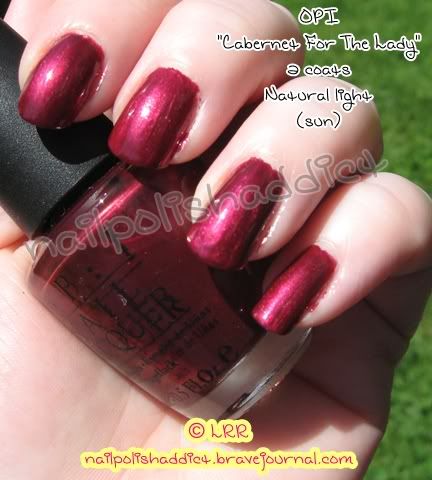 OPI "Yule Love This Silver!" Glitter Top Coat
- This is a clear base top coat with loads of slightly holographic silver microglitter. Goes on very smooth and even, adds sparkle to any nail polish. One coat will add a more subtle sparkle, but I've been known to apply two or three coats for a more full-on glitter flash.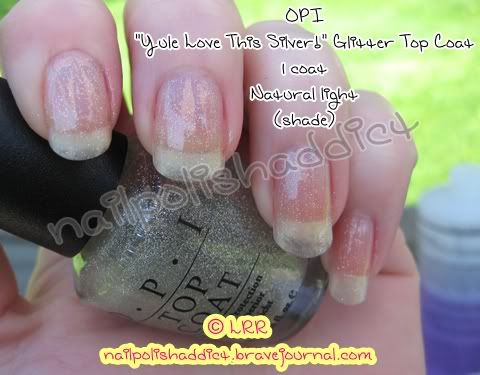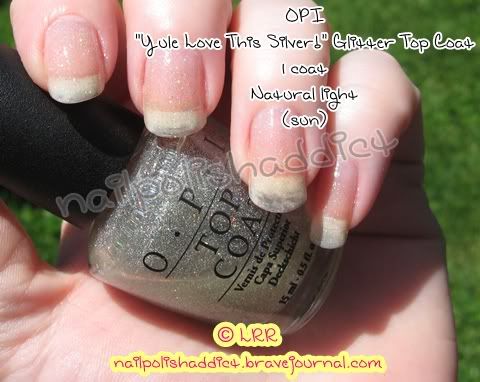 OPI "Sugar Plum Yum" Glitter Top Coat
- This is a very sheer pale purple jelly base top coat with silver and purple microglitter. Same properties and goodness as the Yule Love This Silver! top coat. =)