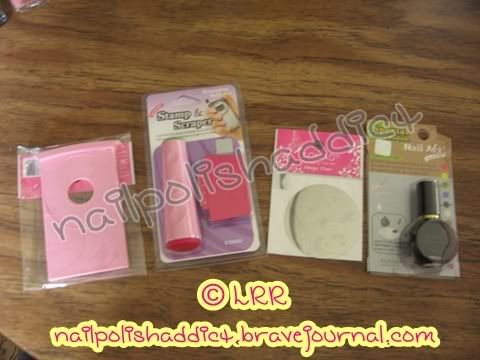 First of all, I have to say I am totally impressed with
wowsocool.com
for having the fastest shipping I've ever experienced in online shopping! I placed my order early Thursday afternoon (May 21) and it was waiting for me in my mailbox when I got home from grocery shopping on Saturday afternoon (May 23). How amazing is that?
Naturally I had to dive in and try this out immediately, after wanting to try this for literally nearly a year. I was only able to get the bare minimum to get started - one image plate, one special polish, the image plate holder and the stamper/scraper set.
This is SO easy, not to mention FUN to use. I absolutely love it, and I think it is officially the single coolest thing EVER when it comes to nail art. All you have to do is put some of the special polish (yes, you NEED the special polish, regular polish will NOT work!) over the design you want, use the scraper to go over it and remove excess polish, pick up the image with the stamper and then "roll" it onto your nails. It's really, really easy!
I have to say the only negative I have found is that the scraper really scratches up the image plate. I had read this in numerous reviews prior to purchasing, and some recommended using an old credit card to scrape the excess polish from the plates instead of the scraper. Well being me, I had to try it that way first but it didn't seem like it wanted to work. So I used the scraper that came with the stamper. After using it just ONCE to test out each design, the image plate is indeed very scratched up. So I decided to try with the old credit card again (bear in mind any cards similar to a credit card would work, like CVS Rewards cards etc. Just be sure it's one that is old or you don't use anymore. I am using my American Eagle card, since I never shop there anymore!) and it did work better the second time around, maybe because after using the scraper I had a better idea of how much pressure to apply when wiping off the excess polish. It does take a little more practice when using a credit card rather than the scraper, but it DOES work just as well once you get the hang of it, and it won't scratch up the image plate.
Beyond that, everything else about this system is fantastic and I would highly recommend this to anyone who loves nail art. It is VERY easy to use. But here are some things you should know before buying/using the first time other than the scraper/credit card stuff:
The stamper didn't want to pick up the designs at first. I tried several times but to no avail. This was something else I had read about in many reviews, so I knew what to do and didn't freak out. All you need to do is take an emery board and run it over the top of the stamper a little bit. Don't worry - it will NOT mess it up. It just gives the stamper a little texture so the polish has something to "stick" to.
Something that NOBODY seemed to mention in any of the reviews I read and I think is important to share is that other than the Konad supplies you need you should also make sure you have these items handy:
cotton pads
Q-tips
nail polish remover
Use the cotton pads to clean off the image plate and scraper with nail polish remover after each image you stamp. I also found it helpful to swipe the stamper between designs as well, to be sure it was clean so no left-over spots of polish would mess up the next design. Also, use the remover & Q-tips to either clean up any areas around your fingers if you get a bit of the design on your skin, or to wipe away any of the special polish from the stamper prior to stamping if you only want part of a design rather than the entire design.
There is a bit of a learning curve with this product; not much of one but it is there. Sometimes the stamper does not pick up the full image, or does not transfer the full image to your nail. I found it only did this when I was either trying to work too quickly (not giving the polish remover enough time to evaporate/dry completely after cleaning off the image plate and scraper) or I wasn't working quickly enough (and the special polish was starting to dry). There's a certain knack you've got to develop with this to know exactly what speed to go to get everything just right. Overall it's very easy to do though and I have not had much trouble with it at all.
Honestly, other than just raving about how simple and fun this is, there is not much more to say about this system. With the exception of that scraper issue this really is great, and totally worth the investment. Maybe they will be able to come up with something better for the scrapers that won't scratch the image plates but until then (if indeed they can come up with something) I'd really recommend using an old credit card (or as I mentioned previously a similar membership type card) instead of the scraper.
Here are a couple pictures for you. First is the image plate next to a standard CD, to give you an idea of what the size of these is like.
And these are just some of the designs stamped onto my nails while I was playing around learning to use the product.