As mentioned in the
previous post
, I have pictures of the nail art pens a friend sent to me that just arrived today. The things I have always called "nail art pens" are nothing like these ones. Nail art pens, to me, have always been like these new ones from Sally Hansen: click
me
to see. But no, these are different. These are far superior.

These are great because they have both a brush and a pen tip applicator. The brush tip is a standard nail art polish brush: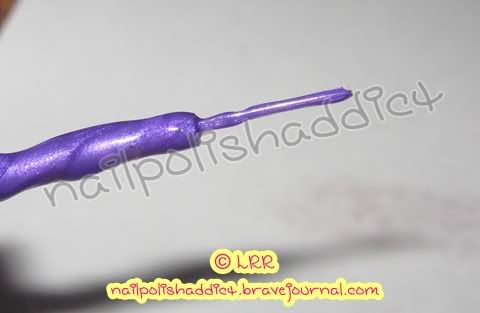 And the pen tip is unique (to me at least) - it's a tiny little tube, and you gently squeeze the bottle to dispense the polish. Perfect for making dots or small details and lines:

I had fun playing around with these things before actually sitting down to try to work out a design that I could do. I have a folder on my computer where I save pictures of nail designs that I come across online that I like to use for inspiration or to replicate myself if I possibly can. Most times I can't replicate the designs; I'm still very new to all this nail art stuff. So I tried a couple designs from my "nail art ideas & inspiration" folder but failed miserably at both of them. So instead I settled for a funky French manicure style design. All of these pictures were taken outdoors in natural light, no flash or exposure compensation.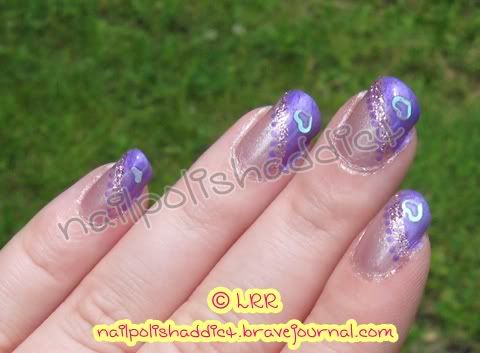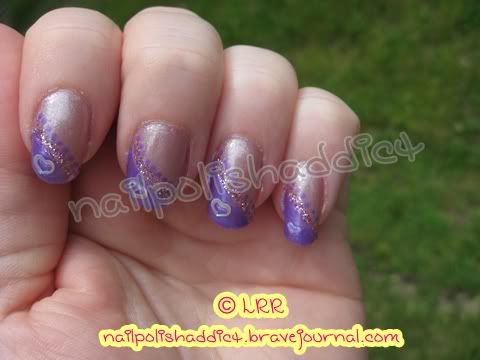 Though it is a simple design I like it a lot and think it's really cute and fun. I think it will be a nice look for my cousin's graduation party this weekend. =)
And once more I apologize for not cleaning up the messy edges before taking pictures. If I don't take the pictures right away I forget to do it completely, and I prefer to wait till my nails are dry before cleaning up the edges. So... I'll try to work on that but I'm not making any promises. Also, I am already aware of the Vaseline/lotion trick to prevent messy edges - I've tried it and don't really care for it. I am also apparently completely incapable of ever NOT having messy edges no matter how careful I am. So. Till I can force myself into the habit of cleaning up the edges before taking pictures, you will have to deal with messy edges in my pictures. :p